Curator Club
"Saturday mornings at Curator Club were always a highlight of my child's week."
- Curator Club Parent
Grades 3, 4, 5 - Saturdays and Summer Camps
Curator Club provides educational science enrichment on a variety of topics in a fun learning environment. Curator Club members receive a membership card for free admission to The Oakes Museum of Natural History, a Curator Club t-shirt, and a certificate for three (3) free admissions to bring a friend.
Curator Club Winter/Spring 2023 - Saturdays - 9:15-11:30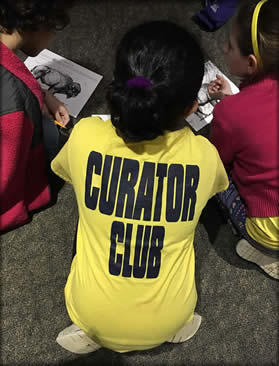 Saturday September 16th : Snap, Slither & Snooze Learn about the Life of reptiles
Saturday September 30th : What's For Dinner Herbivores, Carnivores and Omnivores!
Saturday October 21st : Give me some space! Overpopulation in animal groups.
Saturday November 4th : Reduce, Reuse, Recycle! Find out about the trash we make
Saturday November 18th : Spots & Stripes & other animal mysteries! Find out how animals use patterns and colors!
Saturday December 9th : Lions, Zebras & Zulus! Learn about African Animals and Culture.
Pregistration and prepayment are required as space is limited.
Price - $20 per individual/activity
Or pay $100 for all six activities and save $20!
We accept Visa, MasterCard, and American Express.
Checks may be mailed to:
The Oakes Museum of Natural History
Messiah University
One University Avenue
Mechanicsburg, Pa 17055
Attn: Curator Club
The Oakes Museum of Natural History reserves the right to cancel any program or change any program, in order to comply with local, state, and federal guidelines and recommendations. All prepaid participants will receive a full refund. In case of inclement weather, please call 717-691-6082 for information regarding cancellations or delays.
Need-based scholarships are available. For more information contact us at curatorsclub@messiah.edu
What to Bring
Labeled Water bottle (if needed)
No crocs or flipflops for water or hiking activities
Sunscreen (if needed)
Dress for the weather as we may be outside
Curator Club Mission Statement
Fulfilling part of the Oakes Museum mission, the Curator Club is a multifaceted science enrichment program for community children, grades 3 to 8. The program provides scientifically-based, hands-on learning experience for the participants, challenging them to explore and question their world.