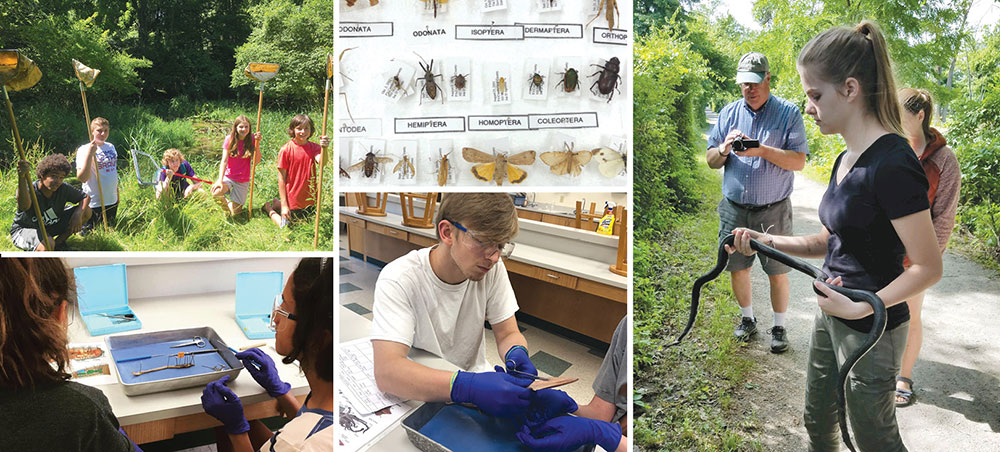 Oakes Museum High School Camps 2023
Our camps offer students entering 9th-12th grades a unique opportunity to learn in the field and lab. Qualified museum staff will lead each session, and college professors and professionals will offer their expertise as guest speakers.
June 15 and 16 – Vertebrate Anatomy Camp – $200
Learn dissecting skills and use them to gain an overview of vertebrate anatomy by comparing the organ systems and specializations of a variety of representative vertebrates. Students will dissect a variety of vertebrates including: frog, shark and fetal pig. Labs will involve microscopy and tissue examination, along with a variety of other hands-on activities.
June 26 – 30 – Field Biology Camp - $350
Learn how biologists study the natural world! Students will be introduced to the study of mammals, birds, reptiles, amphibians, aquatic communities, terrestrial insects, and our forests in this hands-on field class. Students will have the opportunity to use a variety of field investigative equipment in this class. We will assess small mammal communities with live traps, track turtles with telemetry equipment, assess fish communities by electrofishing, and examine forest floor invertebrate using pitfall traps, to mention a few things.
July 12 – Introduction to Dissection (12:30-4:30) - $75
Learn dissecting skills while dissecting an earthworm, frog and pigeon. This is a great introduction to dissection and anatomy! (This half day program does not include lunch.)
Camp is 9:30-4:00 each day with a lunch included. Students will eat lunches in Messiah University's cafteria or bag lunches to be eaten in the field will be provided.
Scholarships are available, contact oakesmuseum@messiah.edu for more information.
Space is limited, so register early!