B-Sides
FREE! Wednesday nights in the Union!
Check schedule for dates
We are happy to announce the next B-sides concert: Hope Country on April 5th at 9pm in the Union! It's free!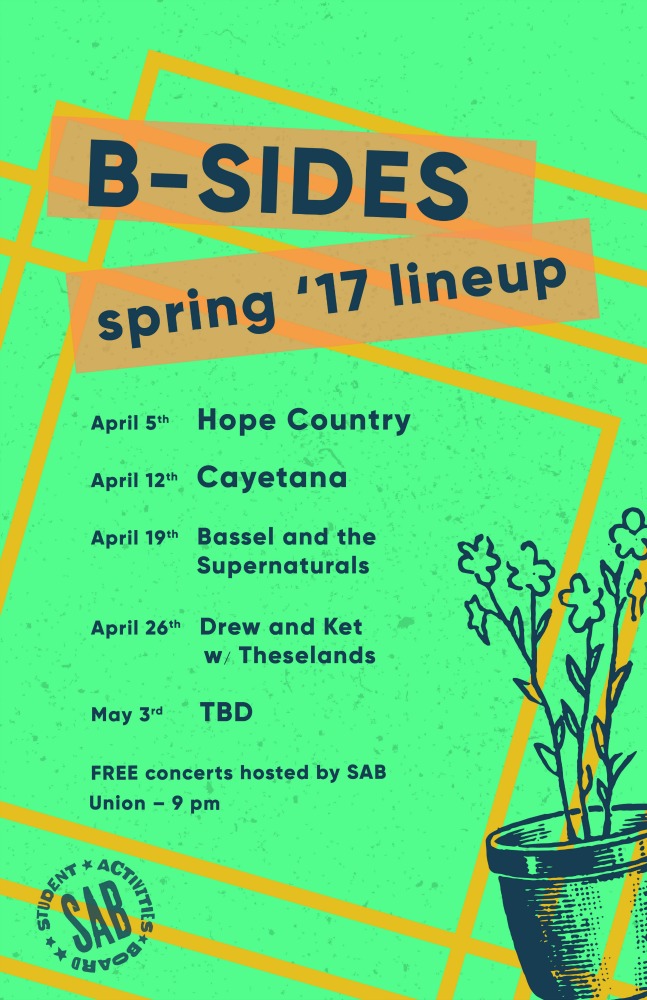 Directions to Larsen Student Union from Off-Campus
B-Sides showcases under-the-radar bands in a wide variety of genres. The goal of these shows is to provide entertainment while introducing students to new ideas, styles, and cultures in popular music. Although the bands are relatively unknown, we hope students will embrace the opportunity to engage with their music. While B-Sides are presented as live entertainment, the shows should also be a thought-provoking event. Because of this distinction, we are very conscious about the bands we bring. As with all SAB entertainment, we select acts based on four criteria: artistic merit, cultural significance, truth communicated, and appropriateness. We make no distinction between non-Christian and Christian artists, but we apply these criteria equally to both. If you know of a musician you've heard that might fit these criteria, please let us know. We love to get recommendations, input, and feedback, because the shows aren't for us, they're for you! Many B-Sides acts have come from student requests, and we try our best to evaluate every band brought to our attention.
The best way to hear about B-Sides events, give input, and requests bands, is through our B-Sides Facebook Page.
Questions regarding concerts should be directed to Joseph Harris.