As a nursing student at Messiah College, you will develop an increasing ability to make clinical judgments in a variety of settings while you are learning the roles of the beginning professional nurse. You will learn about the professional values of nursing and how your increasing nursing knowledge is supported by the liberal and applied sciences.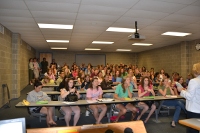 During your first year of study, you will take general liberal arts and science courses.
In your second year of study (sophomore year) you will be introduced to your first clinical nursing courses which include physical assessment and foundations of nursing practice.

As you progress to your third year of study (junior year), you will be caring for patients across the lifespan. You will take courses focused on the childbearing family, adult and older adult nursing, and pediatric nursing. In addition, you will be learning pathophysiology, pharmacology, and beginning nursing research methods.

During your fourth year of study, you will take courses focused on caring for complex patients and problems in a variety of clinical settings. These courses include critical care nursing, psychiatric/mental health nursing, community health nursing, and nursing leadership. In addition, you will take a second nursing research course focused on evidence-based practice, and a nursing seminar course focused on professional nursing topics.

A highlight of your senior year will be your January term preceptor course or you can choose an international option for this course. If you choose the preceptor course, you will be matched with a staff nurse preceptor in a clinical area of your choice. You will work the fulltime schedule of your preceptor to refine and solidify your nursing skills. If you choose an international option, you will learn about nursing from a different perspective and practice nursing in a different culture.

Throughout all four years of study, you will be taking additional liberal arts courses which include Bible, Christian Beliefs, and worldviews/pluralism/ethics.

Upon completion of the nursing curriculum, you will be well versed in being a provider of nursing care, a coordinator/manager/designer of nursing care, as well as being a member of the nursing profession.

For more details on the curriculum requirements and the types of courses you would be taking as an Nursing Major, visit our Online Course Catalog.
(Major brochure and course catalog contain PDF files. Click here for the Adobe® PDF Reader®)