Hours
8 AM to 5 PM Monday through Friday
Walk-ins seen only for urgent medical concerns
Non-urgent RN consultations by appointment
Nurse Practitioner hours by appointment
TO SCHEDULE NURSE OR NURSE PRACTITIONER APPOINTMENTS, STOP IN OR CALL 717-691-6035.
Services Available
Physical Exams
Diagnosis and treatment of acute and chronic health conditions
Pre-travel medicine consultation and immunizations
Registered Dietician consultations
Physical therapy evaluation and treatment
Laboratory services
Immunizations
Allergy shot services
ALERT PHARMACY at Messiah Village offers free delivery service
And many other skilled nursing services
Contact Us
Phone: (717) 691-6035
FAX: (717) 796-5372
Email: englecenter@messiah.edu
RN After-Hours Advice Line : (717) 649-3153
We want you to get a good night's rest, and we need our sleep, too. Please reserve the hours of 10 pm to 8 am for questions of a MEDICALLY URGENT nature that cannot safely wait until morning.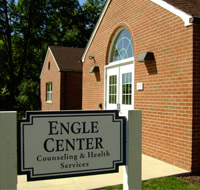 We seek to encourage our students to grow in every area of their lives—physically, emotionally, and spiritually—through a careful balance of support, encouragement, and challenge. Whether you come to us for minor health issues or major health issues, our staff is equipped to respond to individual needs, regardless of your background. If we cannot serve your needs, we know how to connect you with those who can—confidentially.