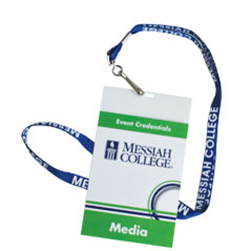 The Office of Marketing and Communications handles all of the media relations for Messiah College, including supporting the Crisis Management Team in handling all communications during a campus emergency.
Reporters are invited to contact our office with their inquiries, whether desiring comments from a College spokesperson, requesting an interview with an employee or student, or seeking credentials to cover a campus event. Reporters intending to visit campus are encouraged to review the media portion of our Visitor's Policy.

Students, educators and employees desiring to invite the media to an event or to publicize their event through a news release should also work in advance with the Office of Marketing and Communications. A six-week lead time is requested to help us meet the deadlines of our regional media for promotional news releases.

All requests related to non-athletic Messiah College media relations should be directed to the Office of Marketing and Communications by calling 717-691-6027. Athletics-related requests should be directed to Steve King at sking@messiah.edu or (717) 766-2511, ext. 7356.

For a glimpse at the many ways Messiah College students, employees, and alumni are talked about in the media, visit our Media Mentions blog at blogs.messiah.edu/media_mentions.