The College doe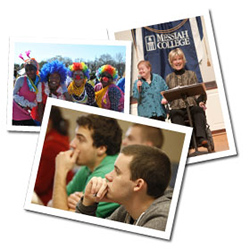 s not employ a staff photographer; however, the Office of Marketing and Communications works with several freelance photographers to cover key institutional events. We also have a talented group of student photographers available for some assignments.

If you have a campus event for which you would like photography coverage, please communicate your request to photography@messiah.edu.

Please provide the following details with your photography request:
Date and time of the event
The type of photos you're looking for
Pertinent event details
The formality/informality of the event (so that we can gauge what skills and experience level the photographer needs to have)
We will then check the availability of the photographers with whom we work, and if one is available, assign someone with the appropriate skills to cover the event.
Billing arrangements for photography requests are made on a case-by-case basis. Depending on the nature of your event, one of the following billing arrangements will be made.
Marketing and Communications may agree to pay for the photography if it is something that is likely to be used more broadly, such as on the institutional website or in various College print publications.
Your account will be billed if the photography is primarily for your own office's use.
The cost may be shared by our department and your office.