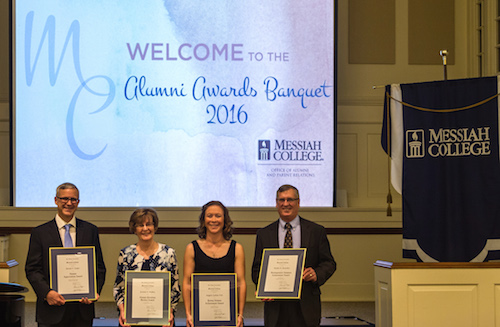 Alumni Awards
Nominate an Alum | View Award Descriptions
Each year, the Alumni Association recognizes four individuals who have made outstanding contributions to society or Messiah College. These awards are important not only for the tribute they pay to the lives of each recipient, but also as a symbol of the quality of our alumni as a whole.
2016 Award Recipients
Click here for past Messiah College Alumni Award Winners.
Young Alumna Achievement Award
Angela Lykins Yeh '03
Distinguished Alumnus Achievement Award
Marlin Benedict '76
Alumni Christian Service Award
Jodie Smiley '77
Alumni Appreciation Award
David Vader
"The alumni awards allow us to recognize and honor a small sampling of our alumni who are fulfilling our mission. The awards are a great way to highlight their missional lives and hold them up as role models for our students."

~Jay McClymont, director of alumni and parent relations
"As I think about this institution, I realize that Messiah College is something special because it has helped students seek connections between what they learn and how they live... It is our special challenge to see that we retain the trust and also leave a legacy for those who will come after"

~Ernest L. Boyer, Sr.