Within the major, students develop a closely-knit community through share experiences and taking many of the same classes. Students can also get involved in groups like Messiah's Social Work Club and Phi Alpha Honor Society. However, as the Social Work community, we strive to reach out to the Messiah community, the Grantham community, the national community, and even international community.
Cookies and Questions
Once a month, Phi Alpha Social Work Honors Society invites all Social Work majors to get together, eat cookies, and discuss their journeys through the Social Work major at Messiah College. Cookies and Questions is great opportunity for underclassmen to ask upperclassmen about placements, assignments, and classes. Cookies and questions also counts towards professional development hours for students. Come ready to meet other Social Work majors and bring any questions you may have about the major.
I think the relationship that is formed between students and faculty and the fellowship between students due to a smaller class size couldn't be any better.

Jess, '12
Club and Organizations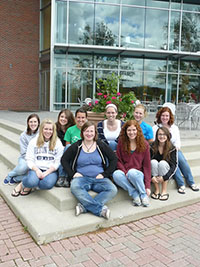 Social Work Club
Social Work Club is an opportunity for Social Work majors and those interested in the major to come together as a whole. Many of us in the same class see each other all the time in the same classes and social work club opens up the opportunity for upperclassmen and first years and everyone in between to discuss experiences, ask questions, and grow together. This year, the theme for Social Work Club is self-care. We are emphasizing the importance of taking care of yourself so that you are able to go out and care for others. Things we have done so far are taking walks, devotions, games, and much more. We meet once a month and will try for an event hosted by the Social Work Club for the spring. – Ashley Bell – President of Social Work Club
Phi Alpha National Honor Society
I first joined Phi Alpha my junior year at Messiah, and I was pleasantly surprised at how at home I felt in this group. As a group, we meet biweekly and conduct business affairs, such as coordinating future service projects, planning how to reach out to underclassmen social work majors, etc. One of the best things about being in Phi Alpha, though, is the sense of belonging I feel in it. We are able to talk to and relate to one another in our experiences, and we become very close. This year, I am privileged to be the President of Phi Alpha, and I thank God for the opportunity. We will be going on a retreat that will help us to discover our strengths and help each other recognize their own strengths. I am excited to see where this year will lead! -Kelsie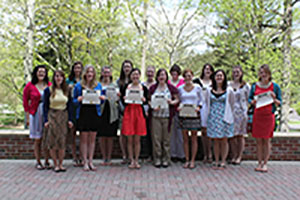 I appreciate the group unity that is in Phi Alpha. As a group we are able to work on building cohesion through out the entire social work program. I enjoy meetings, because it is a time to be with other social work majors and friends. Together we work on ways that we can help others and to raise awareness about social work. - Amanda '11