Centennial Class Profiles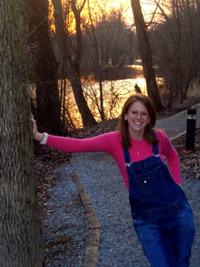 Annie Johnston
Major: Social Work
Hometown:  Carlisle, Pa
Campus Activities: Young Life, Phi Alpha (Social Work Honor Society), work-study job at the college library

As a social work major, Annie Johnston has learned a lot about people and relationships.  According to Johnston the many hands-on opportunities she has participated in as a student at Messiah have helped her to really learn the subject matter outside of the classroom and put her faith into action.

Her innate ability to speak to people on a personal level carries through in her involvement as a volunteer with the Young Life program. Young Life is a relational ministry that focuses on living life with high school students and sharing the gospel with them along the way.  After being involved with the program herself during high school, Johnston attended leadership training where she learned about leading a group like the one she was first a part of. For two and a-half years Johnston has led the Young Life program at a local high school where she serves as a mentor and friend to younger students.

My favorite thing about Young Life," says Johnston, "is that not only do I get to impact the lives of high school students, but my life has been drastically changed as well, as it continues to challenge and encourage me in my walk with Christ and mission in life."

After she graduates in May, Johnston will continue on with her interest in influencing the lives of other people, most likely pursuing a master's degree in social work and guidance counseling.
Johnston sees her class of 2010 as one that realizes the importance of friendship and fellowship at college. Johnston reflects,
"My favorite things about my time at Messiah includes being prepared for my vocation from a Christian point of view and getting the chance to live my life with some incredible people."