Centennial Class Profiles
Jamie Edwards
Major: Music Education
Hometown: Romansville, Pa
Campus Activities: Even while playing tennis, attending sporting events, or stretching his passion for jazz music, Edwards' favorite campus activity is building relationships with his friends.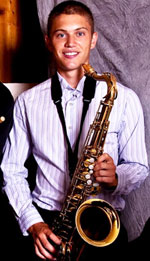 Jamie Edwards started his Messiah experience the "right way" as many would say, by spending some quality time as a first-year student with President Kim Phipps and her husband, Kelly, on a spontaneous trip to Florida.  Like many others, Edwards made the trek to Orlando with friends over the Thanksgiving recess in 2006 to watch Messiah's men's soccer team capture the national championship title. Little did he know that on that whirlwind excursion he would have dinner with the President.  This is one of the experiences Edwards says he will remember most vividly. "To have such a personal encounter with the college President was a wonderful surprise and a memory that I will always cherish from my time at Messiah," said Edwards.

Not only has Edwards worked on building and sustaining lasting friendships, he has also developed his repertoire as a jazz musician and saxophonist while also learning to play the flute, clarinet and piano.  Edwards hones his musical skills as an active member of the wind ensemble, JazzONE, Jazz Combo and saxophone quartet. "I believe Messiah's music department lives, acts and breaths like a close knit family where members strive to build up rather than to tear down," reflected Edwards. "They [professors] have a genuine and sincere interest in our success both as musicians and individuals that supports students in stretching and growing as musicians, but just as importantly offers us the space to grow and mature as people and as believers in Christ."

Edwards plans to pursue a master's degree in jazz performance once he graduates from Messiah.  He believes that he and his fellow classmates at Messiah will reach for a higher calling as they emerge from the academic world. "I think students from the class of 2010 will strive to use their academic studies as a means to propel them toward discovering life interests and fulfilling dreams or careers rather than just pursuing vocations that pay the most, knowing that we can do all things through Christ."