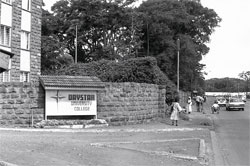 Daystar University
Daystar University, formerly Daystar Institute, is a Christian liberal arts college located in Nairobi, Kenya. 
The University first acquired an accredited master's degree program through an affiliation with Wheaton Graduate School. In 1983, Messiah College became Daystar's senior educational partner and provided an accredited baccalaureate degree program. This agreement between Messiah and Daystar allowed African students who completed the program at the Institute to earn a bachelor's degree from Messiah College. The arrangement placed Daystar on the map as the only accredited Christian liberal arts school in Africa, and, in 1994, the Institute officially became Daystar University upon receiving a charter from the Kenyan government.
As a part of the original terms, Messiah oversaw and monitored the Institute's programming.  Each year, the College provided at least one professional to offer teaching or administrative support.  By the early 1990s, Daystar was offering four majors which granted Messiah College degrees: Bible, communication, business administration, and education.
Messiah also worked to raise funds to build up and advance the African institution. 
The arrangement allowed for the exchange of faculty and students between Africa and the United States, providing culturally enriched experiences for people at both locations. The relationship developed with Daystar went beyond a missionary and service effort.  It was an approach to promote global awareness among the Messiah community.