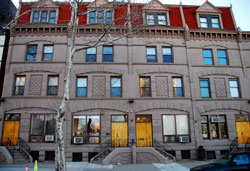 Philadelphia Campus
Every year since 1968, Messiah students have been given the option to experience life beyond the borders of rural Grantham in Philadelphia.  Recognizing the importance of a well-rounded education, Messiah formed a unique partnership with Temple University located in Philadelphia.  This cooperation was the first of its kind between a private religious college and a public institution in the United States.
A Brief History
The idea of an alliance between Messiah and an urban based institution is credited to D. Ray Hostetter, Messiah's sixth president.  He acknowledged that students would greatly benefit from exposure to city life, especially in preparation for life after graduation.
A proposal was drawn up and sent to a number of urban colleges and universities in both Philadelphia and Pittsburgh.  The idea was well-received by all of the institutions, however a partnership with Temple University seemed to be the best fit to fulfill the mission and objectives of the initiative.
In the fall of 1968, Messiah students packed their bags to head to Philadelphia for the first time.  By 1972, Messiah College offered more majors than any other Christian college in the country, thanks to the alliance with Temple University.
The Messiah Experience, Philadelphia Style
The cooperation between Messiah College and Temple University allows students to taste the riches of an urban-focused pedagogy. With the city at their fingertips, students' opportunities are endless:
Unbeatable experiential learning
Service project involvement
Community engagement
Historical exploration
Wide variety of entertainment venues
Emerged in a socially, culturally, and economically diverse arena, they walk away with a greater appreciation and respect for urban life.
"The heart of God is in the city.  My time at Philly was very formative in my life.  It was the first time I felt an authentic sense of community.  This really prepared me for life after college." — Patrick Cicero '99
Student Body: The Philly Campus enrolls approximately 60 to 70 students each semester.
Academic Majors and Minors: Messiah requires or strongly encourages a number of majors to spend at least one semester at the Philadelphia Campus.  These include:
Art History
Broadcasting
Communication – Film
Communication – Public Relations
Criminal Justice
E-marketing
Entrepreneurship
Journalism
Physics
Social Work
Theatre
Urban Studies
Multicultural Families
Sociological Perspectives in Education
Campus: MCPC's facilities include:
Seven large, renovated townhouses

Located on Broad Street between Diamond and Norris Streets
Provides housing for up to 85 students

Staff apartments
Classrooms
Library
Cafeteria
Lounges
Offices
Computer lab
Laundry rooms
Recreation venues