Sollenberger Sports Center
Completed in 1985, the Sollenberger Sports Center provides Messiah College with exceptional recreational and intercollegiate athletic facilities. The Center, named for John and Ida Sollenberger, is home to Hitchcock Arena, named for Harry R. Hitchcock, and Fredricksen Natatorium, named for Cleve and Harriet Fredricksen.
The sports center houses four racquetball courts, a large arena with four basketball courts, an indoor track, an eight-lane swimming pool with a separate diving well, classrooms, locker rooms, and wrestling and gymnastics areas.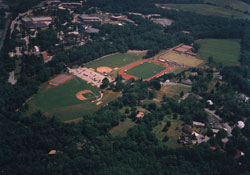 Aerial view of Starry Athletic Fields
Starry Field
"I've gotten more out my gifts to Messiah College than any other gift I have made. It has fulfilled my purposes," said David R. Starry about his faithful contributions to Messiah College. His generosity was recognized in 1978 when the soccer fields, tennis courts, baseball diamonds, and track were collectively named Starry Field in his honor. The athletic fields are located just across the Yellow Breeches Creek from main campus.