The Loft provides many activities to help your group reach your goals. Our facilitators work with you to design an experience specifically targeted to the goals of your group. Whether your group is looking for a fun activity to do together or looking for an experience focused on improving your group's dynamics, we are excited and ready to serve you. Read over the following descriptions of some of the activities we offer to groups. If you're interested in more information, booking an event, or have any questions about these activities, please contact Wendell Witter by email (wwitter@messiah.edu) or by phone (717-796-1800, ext. 7096).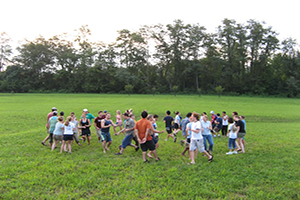 Cooperative Games
Cooperative games are activities that primarily focus on cooperation, activity and fun. They can be presented in either an indoor or outdoor setting during a one- to two-hour session.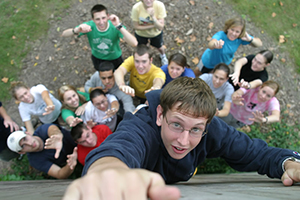 Challenge Course - Teambuilding Initiatives
Teambuilding initiatives are challenges for groups of roughly eight to 15 participants focused on cooperation, problem solving, trust, communication, decision making, and leadership. This experience typically takes place on Messiah College's outdoor challenge course, but can also take place indoors if needed due to weather conditions.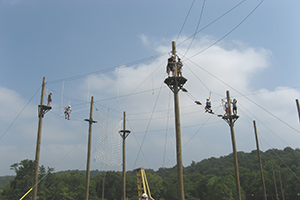 Challenge Course - Teambuilding Initiatives & High Elements
This activity begins with teambuilding initiatives for the first half of the experience and then moves to the high elements of Messiah College's challenge course. Participants can personally challenge themselves with over 15 elements that take place more than 30 feet off the ground and finally end the experience on our zip line, giant swing, or leap of faith.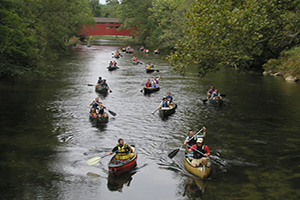 Guided Canoe Trip on the Yellow Breeches
This guided canoe trip takes between two to three hours as we paddle almost four miles on the beautiful Yellow Breeches creek. Roundtrip transportation is provided. No previous experience is necessary.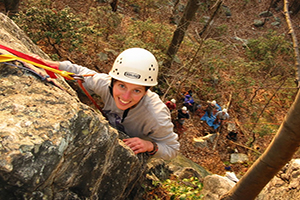 Rock Climbing at White Rock Acres
This activity includes a 20–30 minute hike to a rock cliff where participants can climb a variety of routes up to 50-feet high.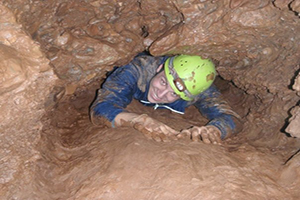 Caving in Lisburn or Carnegie Caves
Go deep underground to try something that most people have never done before. Explore together ... get muddy together ... make memories together!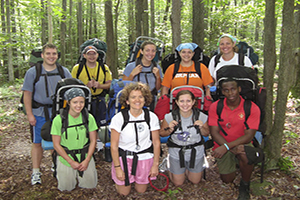 Customized Design
We are willing to work with your group to custom design an experience if the ones we previously mentioned do not exactly meet your needs. Some additional designs that we have done for other groups include overnight camping trips, multi-day backpacking and canoe trips, day hikes, etc. Please contact us if you have any questions or ideas!