Messiah College offers several options for dual-enrollment courses-select what works best for your schedule and learning style.
At our Mechanicsburg campus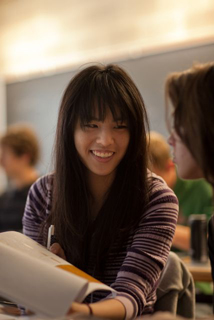 During the academic year, Messiah College offers dual-enrollment courses at its main campus, located in Mechanicsburg, Pa.* This option provides a traditional collegiate classroom experience with face-to-face interaction with professors and classmates. Following the registration of Messiah's undergraduate students each term (fall semester, January-term and spring semester) the College makes remaining class openings available to dual-enrolled students.
View semester dates and application deadlines for dual-enrollment classes
.
*If you take an on-campus course, you must provide your own transportation to and from campus. Please consult with your guidance counselor to ensure that the class time does not conflict with your other academic schedules and requirements.
Summer online
Messiah College encourages students to live and learn during the summer. All of Messiah College's online summer undergraduate courses are available to eligible dual-enrolled students who are entering their junior and senior year. Check out Messiah's undergraduate online website. A list of recommended summer online courses for dual-enrolled students will be available in spring 2015.
On location in regional high schools
Messiah College offers dual-enrollment courses at select high schools in the central Pennsylvania region. All courses are taught by Messiah College faculty. Courses vary by location and semester, and you do not need to be enrolled at the school hosting the course to participate. (Students who do not attend the host school, however, are responsible for their own transportation.) Please be aware that high school host sites have up to a $75 administration fee per course.
Fall 2014
Covenant Christian Academy
MATH 111 and 111L This course, which includes a lab component, presents an introduction to differential and integral calculus with associated analytic geometry. Dr. Angela Hare will be the instructor. (4 credits)
Harrisburg Christian School
PSYC 101 An introduction to modern psychology that includes its major theorists and methodologies and an overview of biological, personality, learning, developmental, social, and abnormal psychology. Dr. Diana Coulson-Brown will be the instructor. (3 credits)
West Shore Christian Academy
BUSA 130 Personal Finance Students will learn to effectively integrate their Christian faith with concepts in personal finance, including: career planning, budgeting, income taxes, investing and saving, various aspects of banking, credit and home ownership, insurance (life, auto, home), and estate planning. Dan Matarrese, CPA, an adjunct faculty member at Messiah, and an accountant with McKonley and Asbury, will be the instructor. (3 credits)
Questions about dual enrollment? Contact Matt Reitnour, director of graduate and non-traditional enrollment at: mreitnour@messiah.edu.
Please discuss course selection with your guidance counselor to ensure that it meets your specific requirements for high school graduation. All students must apply online for dual enrollment before registering for individual classes.