We seek to encourage our students to grow in every area of their lives—physically, emotionally, and spiritually—through a careful balance of support, encouragement, and challenge. Whether you come to us for a "tune-up" or a "make-over," our counseling staff is equipped to respond to individual needs, regardless of your background. If we cannot serve your needs, we know how to connect you with those who can—confidentially.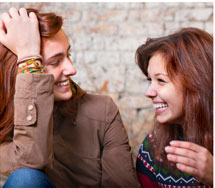 We offer individual and group counseling, as well as pre-marital counseling. Our services are CONFIDENTIAL and provided at NO COST to full time Messiah students.
Hours: Monday thru Friday, 8am to 5pm.
Location: Next to Larsen Student Union (see map)
Not sure if counseling is for you? Check out our Common Questions page.
Find more resources at our Self Help page.
ONLINE SCREENING FOR MENTAL HEALTH
In conjunction with Screening for Mental Health, Messiah College offers a free, confidential OnlineScreening for Mental Health for depression, anxiety, bipolar disorder,alcohol abuse, eating disorders and post-traumatic stress disorder. The screening tool takes only a few minutes to complete and can help you decide if you might benefit from meeting with one of our counselors or another mental health professional.
MAKE AN APPOINTMENT
Counseling Services is now closed for the summer and will not be available for scheduling appointments until classes resume for the Fall 2014 semester.
Requesting an appointment with a counselor can be done either in person or online:
To schedule in person just stop by the Engle Center and speak with our receptionist, or
Request counseling online from the privacy of your room or any on-campus computer. Go to http://titaniumweb.messiah.edu/ WCMenu.aspx and click on the Counseling Intake button and complete the information requested. All information is kept strictly confidential.
After we review your information we will contact you to set up an appointment with the counselor who is best suited to meet with you for your initial appointment.
For urgent assistance please come to our office or call during regular office hours. For after hours and additional emergency resources, click here.