Welcome to the School of the Arts at Messiah College
Visual Arts
We are learners and teachers dedicated to the creation, interpretation, and encouragement of the visual arts through the study of art education, art history, and studio art.
Visit Website
Music
The Department of Music at Messiah College offers students not only the chance to grow on their given instrument, but also the opportunity to pursue music in a wide variety of avenues in a Christian liberal arts environment.
Visit Website
Theatre & Dance
As a community of Theatre and Dance artists we cultivate the stewardship of intellect and imagination in a forum for civic dialogue as we seek to understand our calling in Christ.
Visit Website

News & Events
ETHAN ELDRED ('15) RECOGNIZED BY KENNEDY CENTER AMERICAN COLLEGE THEATRE FESTIVAL FOR WORK IN DEPT. OF THEATRE AND DANCE PRODUCTION OF "J.B."

On October 20, 2013 the lights went dark on Messiah College Department of Theatre and Dance's production of J.B. This successful run showcased the talents of student and community actors, designers and technicians. What audience members may not realize is that almost every piece of music and sound in the production was written and designed by student, Ethan Eldred ('15).
Ethan writes, "I was in the right place at the right time. I couldn't have done this last year without the recording studio, and the black box was certainly an inspiration. I was surrounded by great musicians who weren't just players but in many cases were genuine collaborators with me in creating the design. Right place, right time is just another way of saying we were blessed."
Ethan's compositions were recognized with a Certificate of Merit from the Kennedy Center American College Theatre Festival after two representatives from the festival were impressed with his level of artistry. These recognitions are awarded to "truly exceptional elements in a production."
Ethan called on the talents of several students in finalizing his compositions and recordings, including:

Addie Gingell - Piano
Luke Forshey - Trumpet
Eric Siegel - Saxophone
Jake Kempf - Saxophone
Audrey Springer - Flute
Leah Bergstrom - Oboe
Bekah Henry - Clarinet
Hayley Wilderotter - Bass Clarinet
Abigail Feder - Violin
Arielle Victor - Viola
Kyle Kirkpatrick - Cello and Drum Programming
Shannon Spreen - Soprano voice
Alexandria Ganeng - Mezzo-soprano voice
The cast and crew of J.B. are very thankful to have worked with Ethan - a talented artist who displayed consistent professionalism and artistry.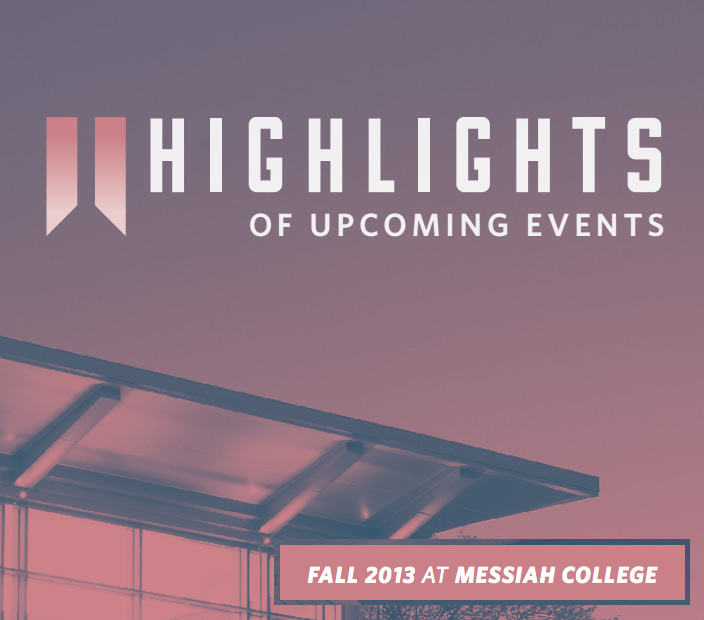 Upcoming Events
We are excited to share a fabulous slate of public events happening this fall on campus at Messiah College. We hope you and your family will join us for a performance, lecture, art exhibit, film or family activity.
Download brochure
Graduate Degrees
Graduate degrees are available in the following disciplines:
Sub-categories of School of the Arts