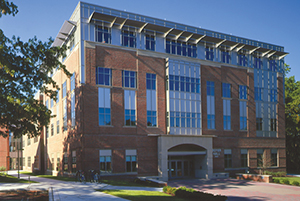 Boyer Hall
Boyer Hall, provides us with facilities dedicated to the specific needs of humanities programs, complete with state-of-the-art classrooms and seminar rooms, a 140-seat lecture hall, which is also used as a cinema, computer labs, a humanities lab that is used by our digital humanties and also used as a language lab, and departmental resource rooms where students and faculty meet informally to learn together. Boyer Hall was dedicated in the Fall of 2003.
Specific building features that will better serve Messiah students and faculty in all academic departments include:
25 classrooms and 3 seminar rooms
A 140-seat lecture hall, equipped with state-of-the-art audio/visual technology. This room is also used as a premiere quality cinema with both digital and film projection capabilities
A well-equipped student computer lab
The Beatriz Howe Humanities Lab dedicated for Digital Public Humanities, Center for Public Humanities and the Langauge
The Howe Atrium, which is a two-story glass atrium designed to provide open, well-lit study and leisure space
Seven department resource rooms
90 faculty offices
Administrative office for the Dean of the School of Arts, Culture, and Society
View Facilities
Frey Hall
Completed in 1991, Frey Hall houses classrooms, a large lecture hall, computer labs, engineering and physics labs and faculty offices. It also serves as the center of the campus computer network.
Frey Hall also houses approximately half of the art spaces: a sculpture studio equipped for wood and stone carving, wood construction, welding, and mixed media work; a ceramics studio with 20 throwing wheels and electric and gas-fired kilns; a textiles studio equipped for dyeing, printing, sewing, weaving, and mixed processes; a graphics computer lab and drafting lab outfitted with MAC and PC stations, scanners, and color printers; and specially equipped art history classrooms and a slide library.
Also located in Frey Hall is the new Ralph S. Larsen Finance Lab.
The Ralph S. Larsen Finance Lab contains 26 computer workstations with dual monitors and instructor podium; 10 Bloomberg Professional terminals; three large-screen televisions showing CNBC, Bloomberg and other financial markets media; and a stock ticker continuously displaying market information.
Finance majors will participate in the annual Bloomberg Trading Challenge, a nationwide stock-trading simulation where teams have $10 million to invest for two months based on a defined trading strategy they develop on Bloomberg terminal.
View Facilities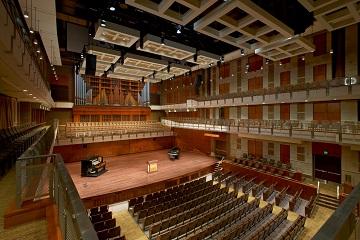 Calvin and Janet High Center for Worship and Performing Arts and Climenhaga Building
The Calvin and Janet High Center for Worship and Performing Arts offers magnificent spaces for music and worship. The 790-seat Parmer Hall serves as the primary performance space and contains a refurbished and enhanced 1950s-era Reuter pipe organ as well as a choir loft that seats more than 100 additional guests, while the 150-seat High Foundation Recital Hall offers a more intimate space for chamber ensembles and solo performances. There are recording capabilities in all halls and rehearsal spaces as well as an up-to-date recording studio with ProTools HDX equipment and a complete keyboard and iMac computer lab. The main foyer features a stunning permanent art installation by Professor Emeritus of Art Ted Prescott.
The Climenhaga Building offers striking, well-lit drawing and painting studios, a printmaking studio with intaglio and lithography presses, and a darkroom for photography. Climenhaga Building also houses the M. Louise Aughinbaugh Gallery, which exhibits the work of internationally recognized artists as well as faculty and students. The 400-seat Miller Theatre, Poorman Black Box Theatre, a soon-to-be completed dance studio and ample practice room space enhance your studies and performances.
Additional facilities
The new 1,740 square-foot Hostetter production studio divides its space between media (television) and film, and includes studio cameras, news set, studio lights and a corner-placed, endless floor green screen (as well as several portable green screens). An adjacent control room allows students to produce and edit live broadcasts via computer stations and monitors that control the audio, switcher, graphics, teleprompter and color correction.
Tucked in the lower level of Murray Library, the Department of Communication's editing lab and suites provide up-to-date technology for editing both film and media productions. The lab features 16 top-tier 27" iMac systems featuring dual-displays and running the latest versions of professional audio/video and graphics software (i.e., Final Cut Pro, Adobe Creative Suite, Avid, DaVinci Resolve, Dragon Frame).
The Pulse consists of Pulse FM, The Clarion yearbook, and The Swinging Bridge magazine. The Pulse seeks to act as ambassadors for Christ through the promotion of honest journalism, provide timely and accurate news and function as a media lab for students to gain skills in writing, design, radio, communication, and more. It provides student voices and perspectives by integrating and utilizing new technology to unify faculty and students through the output of mutual news and events.
Information on Facilities