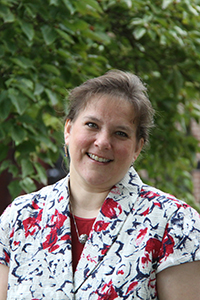 Melinda Burchard, Ph.D.
Associate Professor of Special Education
Interest and areas of expertise
Recent Research:
Assessment and Professional Development related to Multi-tiered Systems of Support (MTSS) and Response to Intervention (RTI)
Developer of the MTISES, The Multi-tiered Instructional Self-Efficacy Scale
Effective Teaching Practices
Effectiveness of Learning Strategies for postsecondary students with and without disabilities
Investigated Interactions Between Information Literacy and Self-Efficacy and Performance Related to Teaching with Evidence-Based Practices
Current Projects:
Studying the needs and gains of in-service and pre-service teachers in components of multi-tiered instruction
Development of the IEP Quality Inventory, used to evaluate the quality of IEPs
Coordinating Special Education Program
Coordinating Minor in Speech and Language Pathology
Education
Ph.D., George Mason University, 2010
Special Education and Teacher Education
M.Ed., James Madison University, 2002
Special Education
​​​​​​​B.A., The College of William and Mary, 1985
Human Relations
Classes I teach
EDSP 399 - Positive Behavior Support for Learners with Emotional Behavioral and Social Disabilities
EDSP 398 - Instructional Strategies for Learners with Severe to Profound Disabilities
EDSP 397 - Instructional Strategies for Learners with Mild to Moderate Disabilities
EDSP 307 - Inclusion Practices
Profile
Vocational Story :
When I was just ten-years-old, my heart was stolen by Russ, a young neighbor with Down Syndrome. That same year, I read the book, The Family that Nobody Wanted by Helen Doss. At the age of ten I felt called to adopt children with disabilities. My husband and I have four children, one of whom has severe autism. Johnny taught me so much and I began to teach other parents of children with disabilities, first informally, and later as a grant funded Parent Trainer. From that position, I pursued a career as a Special Educator, teaching students with learning disabilities and ADHD. My successes teaching strategies led to a move to coordinate a learning strategies program at a university, and to teaching opportunities in Special Education and Math Education courses in their teacher education program. I love teaching special education courses at Messiah College, energized by my interactions with students both in and out of the classroom. Because my first venture into the field of special education was motivated by faith, it is exciting to now integrate faith with empowering my students to teach "the least of these" (The Holy Bible, Matthew 25:45).
Research and Publications
Recent Publications:
Keller, T. Camardese, A, & Abbas, R. (2017). "We don't talk about that here": Teachers, Religion, Public Elementary Schools and the Embodiment of Silence, a Binational United States and Israel Study. Journal of Childhood and Religion 7, pp1-41.
DuBois, A. & Keller, T. (2016). Curriculum Weaving: Developing Creative Curricular Opportunities for Pre-Service Teachers and Elementary Students through Project-Based Learning. Journal of Curriculum and Teaching 5 (2), pp 37-42. DOI:10.5430/jct.v5n2p3
Keller, T. (2016). "The World is So Much Bigger:" Preservice Teachers' Experiences of Religion in Israel and the Influences on Student Teaching. In Efficacy and Implementation of Study Abroad Programs for P-12 Teachers. Heejung An (Ed.). (pp.275-294). DOI: 10.4018/978-1-5225-1057-4.ch016
Keller, T. & Kappus, B. (2016). Inspect your Ideology. ASCD Express,11,12.
Keller, T. & Franzak, J. (2015). When Names and Schools Collide: Critically Analyzing Depictions of Culturally and Linguistically Diverse Children Negotiating Their Names in Picture Books. Children's Literature in Education. 47: 177. DOI: 10.1007/s10583-015-9260-4
Keller, T. (2015) What's in a Name? Picture Books as Opportunities for Critical Literacy in Creating Culturally Responsive Classrooms for ALL Children. The Journal of Reading New Mexico, Winter Edition.
Presentations
International
Socratic Seminars as a Tool in Teacher Education Classrooms: Preparing Teachers to Engage their Future Multilingual Learners in Classroom Discussion, Futures of Education Conference, Florence, Italy (June 8-10, 2017)
Active Learning in College Classrooms: Conversations with Education Department Faculty, Evangelical University, Ndola, Zambia (February 22, 2017)
Religion and Education Roundtable Discussion Bridges to Israel Conference, Western Galilee College, Acre, Israel (May 15-23, 2013)
National
"The Stories Teachers Believe Matter: Preservice Teachers and Their Ideology of Emergent Bilingual Students." Washington, DC. April 9, 2016 AERA (American Educational Research Association) Paper Presentation
"(Un)covering bias and pushing boundaries in children's literature" Workshop at the National Conference for NAME (National Association for Multicultural Education) Tucson, AZ (November 5-9, 2014) Co-Presented with Mrs. Yvonne El Ashmawi, Mrs. Angela Redondo and Mr. Anthony Martinez
"Smoke Detectors: Listening to the Voices of Pre-Service Teachers in Identifying Burnout and Vicarious Trauma" at The National Teaching & Supervision Conference, Slippery Rock, Pa (April 29-20, 2013) Co-Presented with Dr. Alison DuBois
State
"Incarnational Encounters: Stories that Change Us" Messiah College Education Department Fall Research Forum (December 6, 2018)
"Harnessing the Power of Narrative in Language Learning Classrooms" at Penn TESOL Conference, Temple University, Philadelphia, Pa,(November 17, 2018) Presented with Messiah College Students
"Connecting College Students to Migrant Education Students" at Bridges P4CT Conference, Cape May, NJ, (April 25-27, 2018) Presented with Messiah Students
"Immigration Through Children's Literature" at Pa-NAME, Drexel University, Pa, (March 17, 2018) Presented with Messiah Students
"Immigration Through Children's Literature" Humanities Symposium, Messiah College (February 12, 2018) Presented with Messiah College Students
"To Read or Not to Read: Preservice Teachers and Decision Making Regarding Picture Books Depicting Diverse Families" Workshop at Pa-NAME, Temple University, Philadelphia, Pa (April 10-11, 2014) Presented with Westminster College Students
"Off to the Races! Involving Pre-Service Teachers in Research" Round Table Discussion at the State Conference for PAC-TE (Pennsylvania Association of Colleges and Teacher Educators) Harrisburg, Pa (October 21-24, 2014) Co-Presented with Dr. Amy Camardese, Dr. Charlene Endrizzi, Dr. Alison Dubois, and Mrs. Diana Reed
"Teaching in the Shadows: ESL Tutoring in Rural Pennsylvania" Workshop at NAME (National Association for Multicultural Education), Philadelphia, Pa (April 11-12, 2014) Presented with Westminster College Students
"Exploring Global Children's Literature: Jumping Over the Potholes Along the Yellow Brick Road" Workshop at Midwestern Early Childhood Institute, Grove City, Pa (February 1, 2013) Presented with Westminster College Students
"Socratic Seminars: A Powerful (and Fun) Metacognitive Discussion Technique" Workshop at Three Rivers TESOL (Teaching English to Speakers of Other Languages) Conference, Pittsburgh, Pa (October 27, 2012) Presented with Westminster College Students