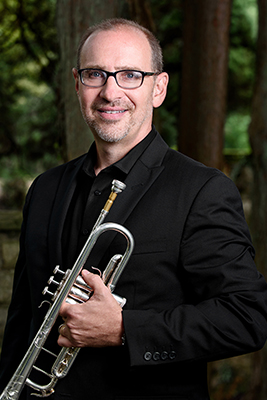 William Stowman, D.M.A.
Professor of Music, Department Chair
Interest and areas of expertise
Education
Classes I teach
Applied Trumpet
Jazz Ensembles
Trumpet Ensemble
Graduate Wind Conducting
Graduate Projects
Profile
Dr. William Stowman is Professor of Trumpet and Chair of the Department of at Messiah College in Mechanicsburg, PA where he teaches trumpet and directs the Jazz Ensemble and Trumpet Ensemble. He is the recipient of the Dr. Robert and Marilyn Smith Award for Excellence in Teaching at Messiah College and has also received the Citation of Excellence from the Pennsylvania Music Educators Association. In 2009, he hosted the International Trumpet Guild Conference in Harrisburg, PA with colleague and friend, Rebecca Wilt. In 2014 and 2015, he served as Host for the National Trumpet Competition.
With a variety of performance and recording credits to his name, he is the Founder and Musical Director of BrassCross, a unique ensemble comprised of faculty and students from Messiah College who released a recording of the antiphonal music of Gabrieli titled Luminocity. As a member of the North Texas Wind Symphony and Keystone Wind Ensemble, he has appeared on numerous recordings.
As a member of Tromba Mundi, Bill has recorded two projects, Sinfonia Americana and Quest for Adventure, a project that included several world premieres performed in Carnegie Hall. Bill has two solo recordings to his credit; A Matter of Seconds is a collection of lyrical works for trumpet that has garnered critical acclaim, and his newest release A Timeless Place which was released in August of 2016 on the Klavier Label.