Executive Director of Marketing and Communications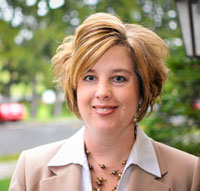 "As Messiah's Director of Marketing and Communications, I'm honored to work with a talented, creative team of writers, designers, and other marketing and PR professionals to tell the story of Messiah College and to communicate Messiah's distinctive brand both on and off campus.
Our team is responsible for strategizing and implementing the College's print and web communications, media relations, a variety of institutional marketing and branding initiatives, and numerous special events, including Messiah's Cultural Series.
Through our work, we have the opportunity to share what a vibrant, academically excellent and authentically Christian community Messiah College truly is. I also serve a dual role as the Special Assistant to the President for Communication in which I assist President Kim Phipps with a variety of internal and external communication issues, and special projects and events, including Commencement and Messiah's recent Centennial celebration."
Prior to coming to Messiah College in 1996, Carla worked in marketing and media and public relations in the state government and nonprofit healthcare sectors. She holds a B.A. in advertising from Penn State University and an M.S. in public relations from the S.I. Newhouse School of Public Communications at Syracuse University. When "off-duty," Carla and her husband Dana are most often found spending time and having fun with their six-year-old twin son and daughter. She also enjoys traveling, photography, scrapbooking, and reading.
Carla E. Gross
Director of Marketing and Communications
Special Assistant to the President for Communication
Office of Marketing and Communications
Messiah College
One College Avenue Suite 3020
Mechanicsburg, PA 17055
e-mail: cgross@messiah.edu
Phone: (717) 691-6027
Fax: (717) 796-5371