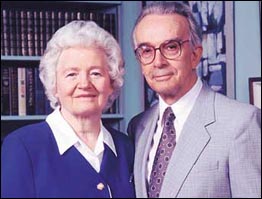 Dr. E. Morris and Leone Sider
The Sider Institute for Anabaptist, Pietist, and Wesleyan Studies is named for Dr. E. Morris and Leone Sider.
The Institute seeks to honor their faithful and continuing service to Messiah College and the Brethren in Christ Church.
Dr. Sider's teaching career has spanned five decades in a variety of educational settings. In the late 1940s, he taught elementary school in Ontario; in the 1950s, he served as principal at Niagara Christian College; and in 1963, he joined the history faculty of Messiah College. He completed his Ph.D. at the Sate University of New York at Buffalo in 1966. He joined the faculty of Messiah College in 1963. Today, he holds the title of professor emeritus of history and English literature at Messiah College.
Over the course of his career, he has authored or edited over thirty books and contributed chapters to a dozen other books. (For more information, see the publications of E. Morris Sider). From 1978-2012, he served as editor of the journal Brethren in Christ History and Life.
In addition to his scholarly pursuits, Dr. Sider has served the Brethren in Christ denomination in numerous ways, most notably as the church's archvist (1979-2000). He has also served on various denominational boards and committees, including the Board of Administration and the Board for Ministry and Doctrine. He was the Assistant Moderator for the Brethren in Christ General Conference during the 1986-88 biennium and also served as Assistant Moderator for the Susquehanna Conference of the Brethren in Christ Church.
In April 2002, Pandora Press U.S. published a festschrift honoring Dr. Sider titled, Minding the Church: Scholarship in the Anabaptist Tradition. Edited by David Weaver Zercher, professor of American religious history at Messiah College, and with a foreword by Richard T. Hughes, former director of the Sider Institute, the book contains essays by fourteen scholars representing fourteen different academic disciplines.
Leone Sider, who passed away in 2022, was a strong partner in this work of education and ministry. During the Siders' years in Canada, she was both a teacher and dean of students at Niagara Christian College. After their move to the States, she served as the dietician at then Messiah College. At the Grantham, Pennsylvania Brethren in Christ Church, she was a Pioneer Club leader and served many years on the church's Peace and Social Justice Committee and on its Hunger Task Force. She was much beloved in her community for the generosity of time, energy, and compassion she extended to those in need of care.