Creating meaningful learning and relationships through hybrid and summer intensive courses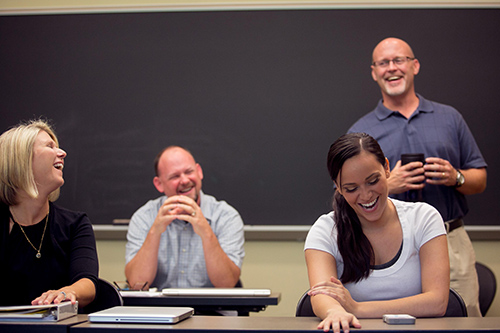 Messiah University's graduate program in higher education offers an optional hybrid course (online/on-campus) courses each semester and a weeklong on-campus intensive course in the summer.
Summer intensive courses
One of the highlights for many students is our unique intensive courses. These one-week courses are taught on Messiah University's campus in Mechanicsburg, Pennsylvania., located near the state capital of Harrisburg and an easy driving distance from numerous metro areas in Pennsylvania and surrounding states.
Intensive courses are named for their concentrated meeting time and immersive learning experience. Typically, these classes meet for five days during the summer months in a face-to-face environment for eight hours a day. They include a mixture of lecture, discussion, group work, videos and applied exercises. In addition to the work that takes place during the week, course readings and assignments are assigned prior to and submitted following the one-week intensive class. Students enjoy digging deeply into one subject matter and getting to build relationships with their classmates and professors. Some programs include evening social and educational activities throughout the week.
Each graduate program has a different course schedule and requirements regarding the intensive courses - many of which require internships or other practica that complement the theoretical content that you will be learning in your classroom experience.
Messiah offers on-campus lodging and meal options for students who are travelling from outside the local area for their summer intensive course week-or there are numerous hotels and restaurants in the surrounding area. Visit our housing and meals page for additional details.
Optional hybrid courses
Each semester, higher education students have the option of taking a hybrid (online/on-campus) course to maximize interaction with fellow classmates, faculty and students.