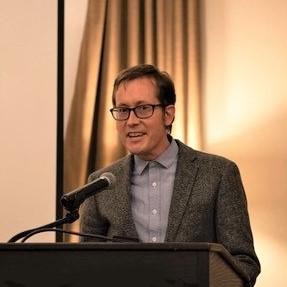 ON SABBATICAL 2020-2021
Professor of History and Archaeology
Areas of Interest: Greek and Roman History, Late Antiquity, Early Christianity, Historical Archaeology, Digital History
Office: 266 Boyer Hall
Phone: 717-796-1800 x 2738
Email: dpettegrew@messiah.edu
Educational Background
Ph.D., History, The Ohio State University
M.A., History, The Ohio State University
B.A., Anthropology and Greek, Wright State University
Biography
David Pettegrew is a scholar of the ancient Mediterranean world who studies the transformation of local society, culture, and religion in the final centuries of antiquity. He is a passionate teacher in the subjects of late antiquity, classical archaeology, and early Christianity, and he enjoys collaborative research with students on a range of topics. As a field archaeologist, he undertakes field research in Greece, Cyprus, and central Pennsylvania. His current projects include studying and publishing the results of an archaeological survey of Corinth, Greece, and writing an introduction to the archaeology of early Christianity. Pettegrew is also active in digital humanities activities on campus including the Digital Harrisburg Initiative and the Commonwealth Monument Project. He can often be found in the Beatrice Howe Humanities Lab working alongside students on public history projects related to significant questions of local history.
Courses
Western Civilization
Roman History
Late Antiquity
The Early Church
Historical Archaeology
Digital History
Indiana Jones and Me (First-Year Seminar)
History and Archaeology of Greece (delivered on-site in Greece)
Books and Edited Works
The Oxford Handbook of Early Christian Archaeology, editor with W.R. Caraher and T.W. Davis, New York: Oxford University Press, 2019.
The Isthmus of Corinth: Crossroads of the Mediterranean World, Ann Arbor: University of Michigan Press, 2016.
Pyla-Koutsopetria I: Archaeological Survey of an Ancient Coastal Town, with W.R. Caraher and R.S. Moore, and with contributions by M. Andrioti, P.N. Kardulias, D. Nakassis, and B.R. Olson, American Schools of Oriental Research Archaeological Reports No. 21, Boston: American Schools of Oriental Research, 2014.
Recent Articles
"Life in an Abandoned Village: The Case of Lakka Skoutara," with W.R. Caraher, in Deborah Brown and Rebecca Seifried (eds.), Deserted Villages: Perspectives from the Eastern Mediterranean, Digital Press of the University of North Dakota (January 2021).

"The Archaeology of Early Christianity: The History, Methods, and State of a Field," with W.R. Caraher. In The Oxford Handbook of Early Christian Archaeology, edited by D.K. Pettegrew, W.R. Caraher, and T.W. Davis. New York: Oxford University Press, 2019.

"Pyla-Koutsopetria Archaeological Project: Recent Work at the Site of Pyla-Vikla," with W. Caraher, R.S. Moore, and D. Nakassis. Report of the Department of Antiquities, Cyprus, 2017.

"The Changing Rural Horizons of Corinth's First Urban Christians." In The First Urban Churches 2: Roman Corinth, edited by J.R. Harrison and L.L. Welborn. Atlanta: Society of Biblical Literature, 2016.

"Imperial Surplus and Local Tastes: A Comparative Study of Mediterranean Connectivity and Trade," with W.R. Caraher. In Across the Corrupting Sea: Post-Braudelian Approaches to the Ancient Mediterranean, edited by C. Concannon and L. Mazurek. Burlington, VT: Ashgate, 2016.
Public History Projects and Activities