The History Club at Messiah University is a student-run organization open to all Messiah students (history majors and non-history majors) interested in exploring the past. Our History Club Constitution is available here as a PDF.
For History Club Events, visit the History Club Facebook page.
Purpose:
To raise the level of historical awareness on the Messiah University campus.
To encourage scholarship and continued study in the field of history.
To understand and explore the presence of God throughout time and in our discipline.
To cultivate an enjoyment of the past among students, in and out of the major.
To build community among students and faculty.
Goals and Objectives:
To explore the many and diverse historical sites, parks, battlefields and museums surrounding Messiah University.
To host guest lectures.
To evaluate and discuss the historical accuracy and meaning of historic films and documentaries.
To provide students with valuable resources, advice and information on graduate programs and schools in which to continue study in the field of history.
To promote fellowship among students who share similar interests, goals and passions.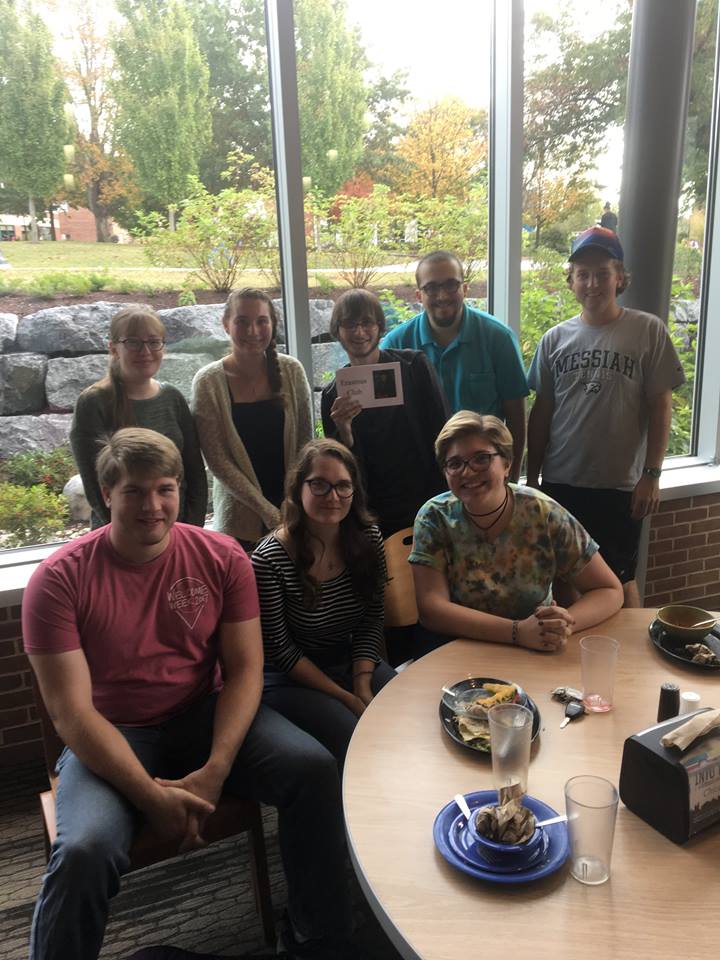 An Erasmus Club meeting in fall 2017
Events and Activities:
The history club contributes to the following events and activities:
Graduate School & Career Night (an interactive panel discussion with department faculty and history alumni)
Fall Welcome BBQ (an introduction of first year students and faculty to the History, Politics and International Relations department at the Lower Allen Township park)
Christmas Carol night (visits to faculty homes at end of fall semester)
Movie Nights (faculty directed discussion of movies and their historical representation and accuracy)
Field Trips (Washington D.C., Philadelphia, Fallingwater, etc..)
Spring Picnic (held in late April / early May)
Current Officers:
President: Keli Ganey
Social Media Manager:
Treasurer:
Past Officers:
2021-2022: Chloe Kauffman and Autumn Miller (co-presidents), Dylan Goss (treasurer), Social Media (Keli Ganey)
2021-2021: Chloe Kauffman (president), Dylan Goss (treasurer)
2019-2020: Chloe Kauffman and Kyra Yoder (co-presidents), Dylan Goss (treasurer), Keanan Wolf (secretary and social media manager)
2018-2019: Robin Schwarzmann, Sarah Wilson, and Kyra Yoder (co-presidents), Devon Hearn (treasurer), Rachel Williams (secretary)
2017-2018: Josh Carter and Sarah Wilson (co-presidents), Ben Baddorf (treasurer), Robin Schwarzmann (social media manager), Rachel Williams (secretary)
2016-2017: Kayla Rollins and Josh Carter (co-presidents), Rachel Williams and Sarah Wilson (secretary and treasurer)
2015-2016: Katy Kaslow and Kyle Polinka (co-presidents), Megan Ekstrom and Kayla Rollins (secretary and treasurer)
2014-2015: Beki Randolph and Katy Kaslow (co-presidents), Megan Ekstrom and Kyle Polinka (secretary and treasurer)
2013-2014: Brianna LaCasse and Eli Kane (co-presidents), Beki Randolph and Kathryn Kaslow (secretary and treasurer)
2012-2013: Megan Keller and Eli Kane (co-presidents), Brianna LaCasse and Ashley King (secretary and treasurer)
2011-2012: Amanda Mylin and Katie Garland (co-presidents), Hillary Carter and Megan Keller (secretary and treasurer)
2010-2011: Elizabeth Coon and Christine Kelly (co-presidents), Katie Garland and Amanda Mylin (secretary and treasurer)
2009-2010: Caitlin Babcock and Courtney Weller (co-presidents), Christine Kelly and Elizabeth Coon (secretary and treasurer)
2008-2009: Michelle Bomboy and Lucy Vallana (co-presidents), Caitlin Babock and Courtney Weller (secretary and treasurer)
2007-2008: Mary Lee Shade (co-president)
2006-2007: Rachel Heeter and Mary Lee Shade (co-presidents)
Faculty Advisor: Dr. Sarah Myers
History Club Email: History Club