Art Beyond the Classroom thrives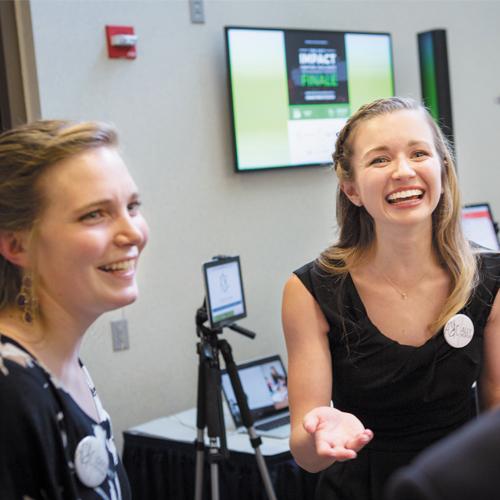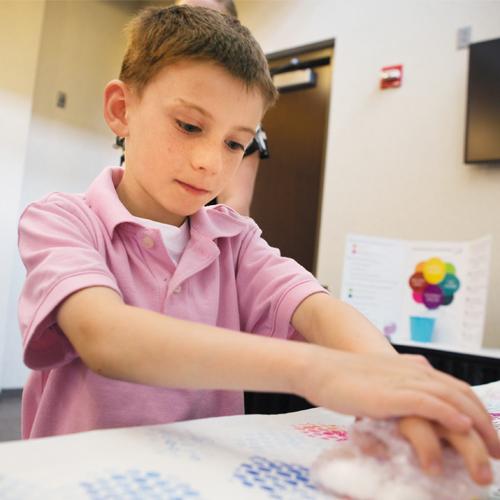 If you are called to act, why wait? Dani Kepner '18 and Ally Morgret '18 have answered that question over and over since creating Art Beyond the Classroom (ABC), a visual-arts based program for children in limiting settings, such as hospitals.
In a 2014 conversation about career aspirations with Assistant Professor of Art Education Elizabeth Dubin, Kepner had expressed an interest in art therapy but wasn't sure how to fit that into her art education pursuits.
"Professor Dubin nonchalantly suggested, 'Well, why don't you start an art therapy program?'" Kepner said, a studio art and psychology major. "This stunned me. I didn't think creating a program was even a possibility for me, as I knew very little about program development or management. However, it was evident that she had confidence in me before I had confidence in myself to take this leap of faith."
Part of that leap included finding someone to partner with her. In a Created and Called for Community (CCC) class, she met Morgret.
"Because we both have a passion for children and art," said Morgret, a human development and family science major, "our desire is to go to the source and provide quality art and a safe space for children to express themselves alongside our helping hands."
When they pitched the idea to Penn State Children's Hospital in the summer of 2014, they didn't know how they would be received by the medical community.
"I had little hope that they would even let us into the hospital," said Kepner. "They not only let us in, but they let us grow from a monthly group session, to weekly one-on-one sessions, to twice weekly and now for extended hours."
Because the program became successful quickly, the two students needed some help to maintain and continually improve it. They created a leadership team and held an open information session for students who wanted to volunteer. In the spring, ABC opened its second branch at NHS Autism School in Carlisle, led by two new members.
IVC
While they'd been managing ABC for years, Morgret and Kepner took things to the next level by entering the Impact Venture Challenge (IVC), Messiah's student entrepreneur contest. ABC reached the finale, which included only six teams.
"Making it through the first round allowed us to voice the importance of aiding children through their development with the creation of art," said Morgret. "Presenting it on stage for the finale allowed us to spread the word about our services and show the community that our hearts are in this for the children and not our own glory."
Although they didn't win, the women were far from discouraged.
"Art Beyond the Classroom confirmed my calling. Impact Venture Challenge confirmed that I have room to grow," said Kepner of the experience. "We were able to pitch our program alongside five other extraordinary teams of people with purpose-driven business venture ideas."
What's next?
What happens to a student-run program when the students graduate? Kepner says the next few months will be telling. Kepner is hoping to go to graduate school for art therapy while Morgret hopes to get an internship to become a child life specialist. While they plan to keep the leadership team in place, they hope some passionate students will continue to keep ABC running smoothly.
Both women agree that one of the biggest takeaways from creating ABC is that "undergraduate" does not equal "underqualified."
"I'm often asked the question—after mentioning that ABC's first location was Penn State Children's Hospital—'Oh, how did you land that gig?' My answer is much simpler than those who ask expect it to be: We just asked. We worked hard, got creative and leaped!"
–Anna Seip