Thursday, June 15, 2017
Category: News
Chad Gibson '15
Alumnus brings blueprints to life
By: Livia Ungurean
Although HGTV makes building a house look incredibly easy, Chad Gibson '15 gives a deeper look into the process of home construction.
Gibson graduated from Messiah College in 2015 with a degree in business administration. As a fairly new graduate, he sought out opportunities to utilize his excellent communication and business skills. He soon joined ProBuild, an entity of Builders FirstSource, one of the nation's largest professional building materials suppliers. ProBuild strives to be the main supplier of structural building materials and services of homebuilders and remodelers. The company generated over six billion dollars in annual revenue in 2015 and operates 400 locations in 40 states.
As a representative of ProBuild from Builder's First Source Company, Gibson is responsible for helping customers choose the perfect products to bring the blueprints to life. He analyzes the blueprints of a home and calculates how much lumber is required for the home's plan. From finding the perfect lot of land to lumber estimates, Gibson helps strategize and provide enough material to transform a house into a home.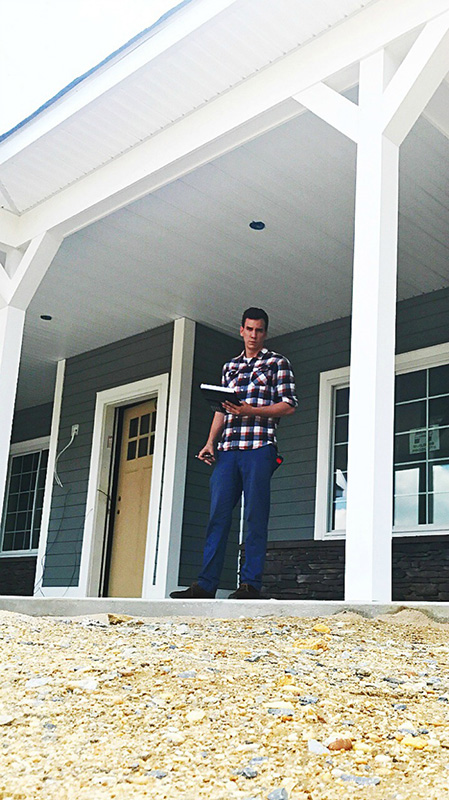 Gibson also works closely with customers to develop strong, lasting relationships. Being a "people-person" is crucial. He constantly communicates with clients to fulfill their needs, and he has learned the importance of understanding and recognizing people's satisfaction levels. He even once traveled with a customer to Seattle to watch the Seahawks play against the Eagles.
During his time at Messiah College, Gibson learned how to identify problems within a business situation and quickly seek solutions. Through business courses like as strategic management, Gibson learned how to budget time wisely under pressure, claiming that business courses taught him how to make connections. He added, "When I got to Messiah, I didn't know anyone. Sales is no different. I have to prove to this person I have never met that they can trust me, and trust spending a large amount of money in hopes that my recommendations will fulfill their structural needs."
Fun Fact:

Chad's pug ran away for 52 days and came back on New Year's night.
What advice would Gibson give to current and prospective students? "Don't be afraid to put yourself out there, connections are key." In Gibson's chosen career field, he learned that the customers he treats with the best quality and customer service are the ones who refer him to other customers, which helps grow his network and business. He's grateful for the experience he had at Messiah College and for all of skills he learned that will continue to help him in his career field.
---