Thursday, December 7, 2017
Category: Athletics
Messiah Athletics: reaching a world in need
Molly Martin '19, Messiah Women's Swimming and Outdoor Track and Field
Sliding your orange laces through the eyelets of your spikes and twisting them into a tight double knot is more important than you realize. Stepping onto the starting line, positioning your feet on the blocks, lining up a throw, and preparing to jump, are moments when you are on display. But even when you are not on the field, the court or in the pool, there will be people watching you. You represent something much larger than a time, the number of baskets you make and goals you score. And as a student-athlete you have the power to determine what those eyes see—good or bad. Being part of Messiah College Athletics, you may find yourself being called to use your gifts to reach a world in need—one watching from the stands and the opposing side of the field. Inspiring athletes like Tim Tebow, who wore John 3:16 on the black paint under his eyes during an NFL football game, and gymnast Gabby Douglas have set a revolution in motion by calling attention to Christians in sports. "I give all the glory to God. It's kind of a win-win situation. The glory goes up to Him and the blessings fall down on me," Douglas told the press after receiving a gold medal at the 2012 Olympics.
But how can you use DIII athletics as a platform to love others?
Worship through sports.
Your athletic talent is not something to take lightly. You are competing at a collegiate level and that is very special. It is also an incredible gift from God. He constructed your team and gave each one of you skills to play a game; you have the choice if you will compete for His glory.
Furthermore, your identity as an athlete is not in the way you perform, what place your team takes, or because of the prayers you say and cheers you shout.
"We don't talk a lot about winning for God. Sometimes God asks us to lose," said Bryan Brunk, head coach of Messiah College Wrestling. Your identity is in Christ and He gave you the gift of sports. Knowing this allows an athlete to glorify God, even during a trying season, match, race or game. When you show love and humility, you are channeling the love God has poured out on you. In this way, you worship Him. Are you willing to walk through whatever God asks you?
Know you are reaching a world in need.
This season, Messiah's wrestling team is working through the book of Philippians. They are studying the ways we can be like Christ, who poured out everything He had for God. We are to be known for our love for others. This means serving teammates and competitors alike, pouring ourselves out, not only during a match, but by helping others when they are hurt and encouraging them to do their best. In this way, you are a representation of Christ.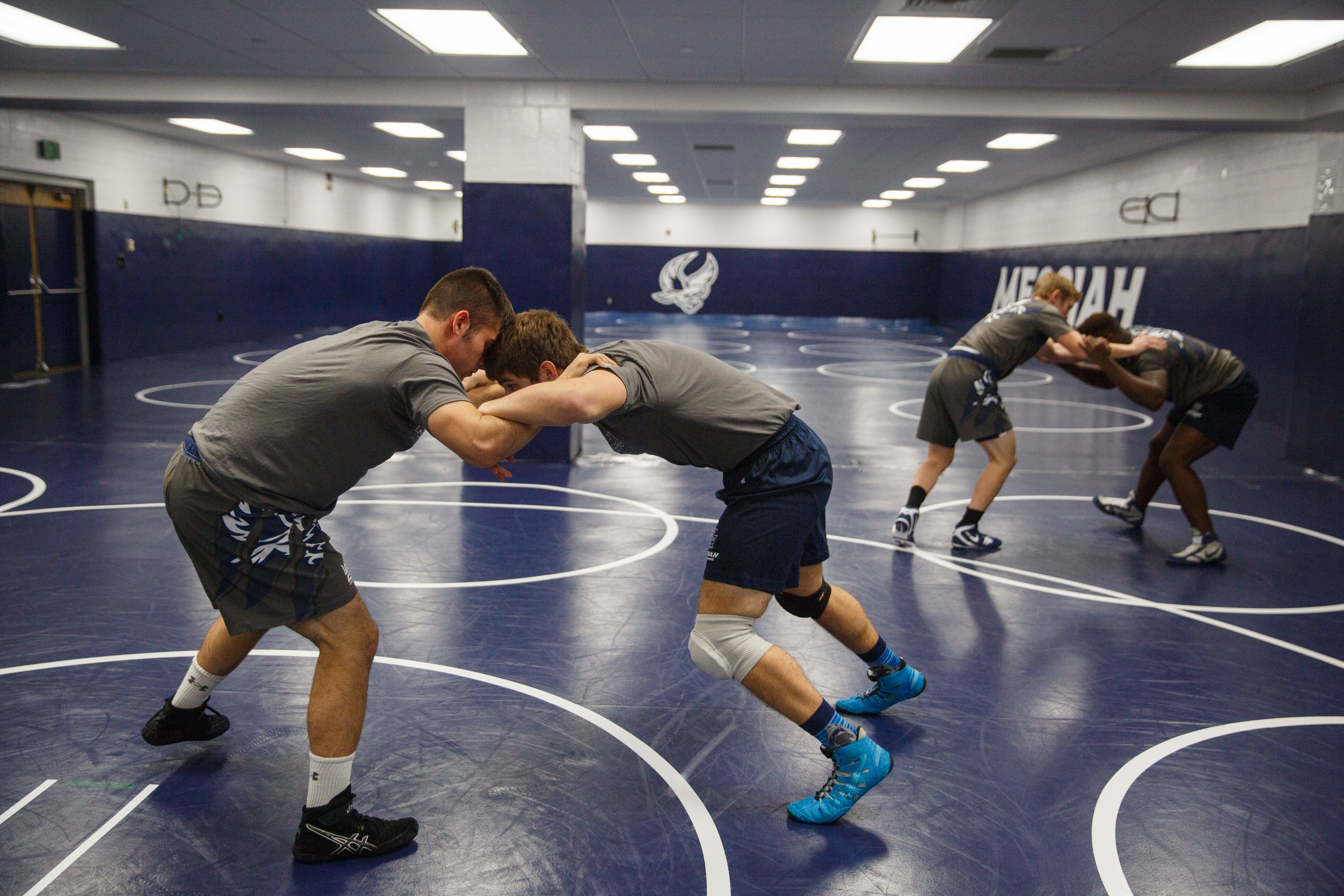 Just as the wrestling team is practicing pouring themselves out in every circumstance and giving their all to what they do, many other teams have special ways to display Christ-like behavior. Athletes wearing Messiah across their uniform is a statement. So is writing little encouraging notes to your competitors, like the women's volleyball team and the women's swim team. Other times, this means stepping out of your comfort zone and asking players to pray with your team at the end of a sporting event. No matter how you decide to share the Lord, know there are people out there that are learning from you.
"But thanks be to God, who always leads us in triumphal procession in Christ and through us spreads everywhere the fragrance of the knowledge of him. For we are to God the AROMA of Christ among those who are being saved and those who are perishing." 2 Corinthians 2:14-15 (AROMA's key verse)
Get plugged in.
Living in a community built around Christian education has its benefits. There are many opportunities for athletes, and the student body, to find support as they navigate faith and its integration with life.
The following groups are just some of the ways athletes can get involved at Messiah:
AROMA Sports Ministry –Find more information here
Fellowship of Christian Athletes - Check out their Instagram (@messiah_fca)
Slayers - Bible studies for male athletes (talk to your captains!)
Lady Falcs - Bible study for female athletes. (Contact Tara Freeman at tara.freeman@messiah.edu to participate.)
Team Bible Study - If your team doesn't have one, maybe that is something to look into!
Being a Christian athlete is exciting. It comes with extra responsibility, but it also gives you an additional reason to compete and a platform to share the gospel. God has given you a way to serve him--go out and use it!