Tuesday, December 19, 2017
Category: Awards and recognition
Messiah Men's Soccer receives National Coaching Staff of the Year recognition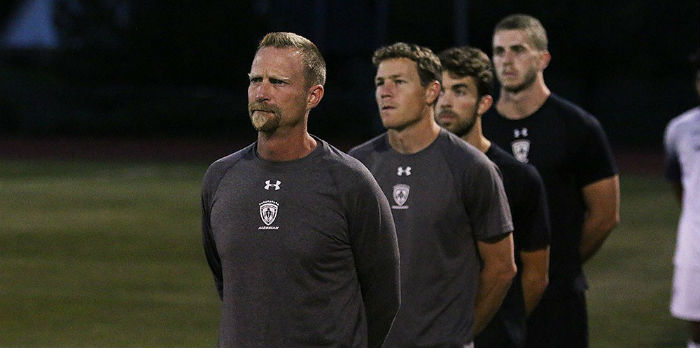 A few weeks after leading Messiah men's soccer to the 11th National Championship in program history, the coaching staff from the Falcons has received the United Soccer Coaches Division III Men's Staff of the Year honor.

The staff, comprised of head coach Brad McCarty (ninth season) and assistants Aaron Faro (ninth season), Sam Woodworth (sixth season), and Jon Weaver (first season), led the Falcons to a 24-2 overall record. Messiah reached their 15th final four in program history, facing off with Brandeis University in the National Semifinal on Dec. 1. After falling behind two times in the contest (0-1 and 1-2), Kirby Robbins tied the game in the 81' and Justin Brautigam nailed the game-winner in double overtime in the 105' to send Messiah to the National Final. Adam Cole scored the first goal of the game for the Falcons, which was also the first goal of his career.

The Falcons went into the National Championship looking to win their 11th title in 11 tries, but once again they fell behind, this time just 72 seconds into the game. However, an quick answer by Brautigam in the 5' and Ben Haines' first career goal just before halftime in the 45' proved to be enough as Messiah held on for a 2-1 title victory.