Thursday, February 1, 2018
Category: News
Working in a Winter Wonderland: J-Term, Then and Now
By: Sarah Fertsch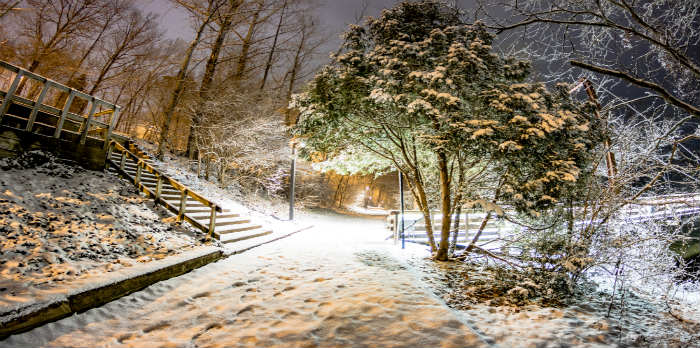 Ice clusters over the Yellow Breeches. The frozen ground crunches under students' feet as they hobble to Boyer Hall, bundled in bulky coats and lugging heavy backpacks. Sled tracks and footprints line Cemetery Hill. A snowman, adorned in a scarf and mittens, stands proudly outside of Bittner Residence Hall. Murray Library overflows with students trying to complete three credits in under three weeks. Classes are long but the days are short, signaling the height of Messiah College J-Term.
In 1970, College President D. Ray Hostetter instituted the first winter term, giving students the opportunity to catch up on their general education requirements or take an elective course. Some say that J-Term plays a significant role in their Messiah College experience, and others find unique ways to entertain themselves.
Jill Poole '81 adores J-Term even as a Messiah College employee. The behavioral science major worked for the development office, human resources, alumni relations, College ministries, the career center and as a resident director. Today, she can be found in the Registrar's Office helping transfer students navigate classes and credits.
"I've always loved J-Term," she said. She vividly remembers taking Foundations of Oral Communication one January and slipping in her high heels as she trudged from her residence hall to Old Main for her speech. "I struggled in my classes so spending one whole month working on one subject was great," Poole said.
Poole grins as she recalls a time when the power went out on her hall in Bittner. All the girls gathered flashlights as they sang and played board games. With all these powerful memories, Poole says she loves answering questions about J-Term from transfer students.
Cory Collette '20 transferred to the College last fall. When he isn't in class or studying in the library, the computer science major spends time with his floormates in Bittner. "We play Settlers of Catan almost every night for over two hours," he says.
They've started a movie night tradition every Saturday evening. Collette brought his projector into the lounge and the floormates watch "Star Wars" and other films. Snowball fights erupt in the afternoons. "My floor gives me a great impression of college life," said Collette. "It's awesome to be a part of the Messiah College community."
Kimberley Steiner '92 raves about her J-Term experiences with her floor. Living in Sollenberger, her and her roommates would spend most nights either at Baker's diner or the former Bob's Big Boy restaurant near the Capital City Mall. Like Poole and Collette, Steiner adored her residence hall dynamic every January. They would play "Get your Roommate a Date" with Miller Residence and go on double date scavenger hunts.
Steiner says she enjoyed her classes over J-Term, especially creative expression. "All we did was arts and crafts and played tambourines in the old schoolhouse," she recalled. Her senior year, however, she wrestled with lesson plans and curriculums to prepare for student teaching in the spring. Now working as the interlibrary loan consultant, she plans events for students like Clue and mini-golf.
"If I could do it again, I would study abroad," she said. "I heard about how education majors can now go to Indonesia and teach English, and the warm weather would be amazing."
Kira Adelman '19 spent last semester teaching in Indonesia, and this year looks forward to working in classrooms in Mechanicsburg. The education major says she misses Indonesia, but she's excited to substitute-teach for Northern School District. "I'm thankful to be placed in any classroom so that I can make an impact on every child, even only for a day," she said.
Alli Williams '19, a double major in public relations and psychology, spent her January on a cross cultural trip to Kenya. Williams loved working with Rift Valley Fellowship, a nonprofit organization that helps victims of prostitution. "This is an area I have always been sensitive toward and I want to help in any way I can," she said.
Williams jumped on the opportunity to travel to Kenya over J-Term so she could explore a new culture while earning college credit. "Instead of sitting in the cold and watching Netflix during free time, we get to go outside and play volleyball," she said. "To end out J-Term, get to go on a safari which everyone is extremely excited for!"