Wednesday, February 21, 2018
Category: Academics
Building a strong foundation: general education through the years
By Sarah Fertsch '19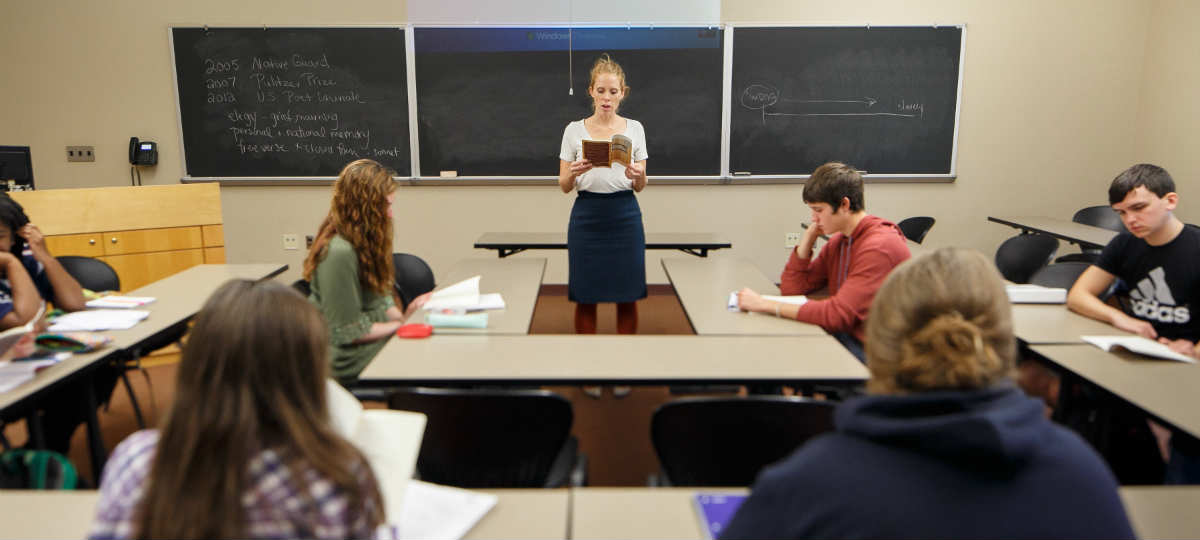 Every student knows that college is more than just education or engineering. The first two years are spent taking classes on subjects ranging from Intermediate Volleyball, Intro to Philosophy, and Human Biology. Many students see general education as a waste of time, but core course requirements can actually benefit students.
Megan Hess '18 raves about her general education experience. "I actually met my roommate in my European Missionaries in Africa class, which counted for my nonwestern credit," she said. "These classes are a great way to meet new people." As a public relations major, Hess dreams of becoming a "fabulous PR professional who can afford Broadway tickets and fancy cheese" and, even though some of her courses weren't her favorite, she says they helped her learn to engage with the world around her.
Robin Lauermann, associate dean of general education, common learning and advising, describes the Messiah College QuEST general education requirements as "essential for student growth." Quest, or Qualities Essential for Student Transformation, offers choices for students in both disciplinary and interdisciplinary coursework. Initiatives like the writing program, wellness and Messiah's career-preparatory Experiential Learning Initiative (ELI) allow students to develop professionally, personally and spiritually.
Messiah College's liberal arts education is founded on four pillars: knowledge of the liberal arts, abilities of the liberal arts, social responsibility and Christian faith. Classes like Oral Communication, Created and Called for Community and First-Year Seminar help students foster abilities to write, think, read and speak more effectively. Classes in math, science, humanities, arts, language and nonwestern studies guide students to think critically and interpret reality in new ways. Wellness and pluralism allow students to better understand themselves and their calling in life. Classes in biblical studies and Christian faith encourage students to evaluate their faith and reconcile with God.
Lauermann credits student assessment to the successes of the QuEST education program. "Assessment offers guiding principles which make it more accessible to map out the future of general education," she added.
John Yeatts '69, alum and retired faculty member, spoke highly of his general education experience. "General education wasn't always so modern," he said. When Yeatts was a first year student, College President D. Ray Hostetter was inaugurated. Hostetter and Ernie Boyer developed the new integrated studies general education program. In the 1970s, the College required students to attend five core classes: Skills and Perceptions, Modern Issues and Christian Values, Christendom Reform and Enlightenment, Three Ancient Civilizations and World Views. The classes took place in a lecture hall in Kline and Miller Auditorium and every student would connect their assignments to their major. Yeatts taught World Views along with Skills and Perceptions and Ancient Civilizations.
"Hostetter was incredibly innovative and the College has progressed, thanks to his work," said Yeatts.
In 1994, the College realized that choice-based curriculum would allow for more intensive study and larger departments. After the renovation, Yeatts taught Bible classes until he was promoted to associate dean of common learning and general education in 2001. He, along with current Provost Randall Basinger and President Kim Phipps, developed the Created and Called for Community course. He says he's thankful that general education is choice-based because it allows other majors to expand, like education and nursing.
Basinger formerly served as the associate dean of curriculum and oversaw many overhauls to the QuEST program. He, like Yeatts, taught World Views in Miller Auditorium for up to three hours with the entire class of first-year students.
"While there has been a lot of change in the general education offered, the main learning outcomes never change," Basinger said. "We only strive to develop the best way to teach them."