Thursday, February 22, 2018
Category: Alumni
Messiah to Marketing: alumnus Jordan Parenti'13 shares about his work post-graduation
Molly Martin '19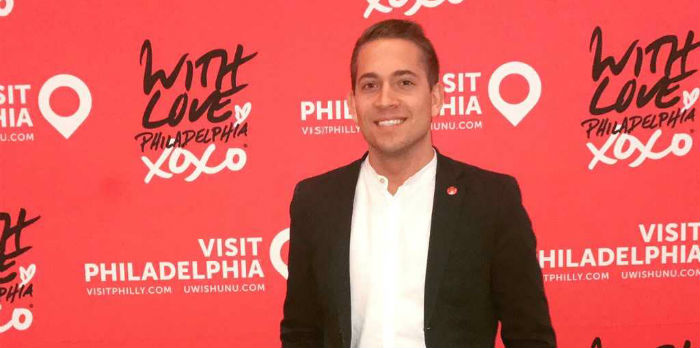 "When I grow up someday…" might be sooner than you think. One day, you are lingering in Lottie Nelson Dining Hall laughing with your friends and the next, you find yourself shaking the hand of Kim Phipps in a graduation cap and gown. That "someday" is suddenly right in front of you. But how do you go from the classroom to the real world?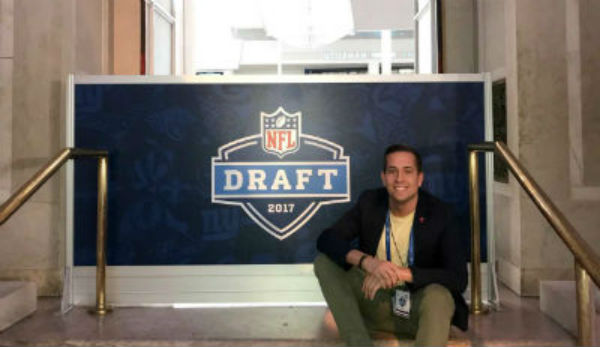 Alumni Jordan Parenti '13shares some advice and his experiences at Messiah, explaining how he has found his place as the partnership manager at Visit Philadelphia, the Destination Marketing Organization for the city of Philadelphia.
The organization, as a whole, is responsible for marketing Philadelphia as a leisure destination. Parenti manages projects and relationships with Philadelphia's museums, attractions, sports teams and universities. Sometimes he will be found meeting with executives at attractions making sure they feel well-represented. Other days, you will find Parenti collaborating with his department to build advertising opportunities for partners. A couple times a year, major projects will pop up as well: a visit from the Pope, the Democratic National Convention, the NFL Draft, a city-wide bid for Amazon's new Headquarters or a Super Bowl victory. Events and projects like these often require individuals from across the organization brainstorming around the table on how to best leverage the event for our city and its partners.
"While negotiating and relationship management are skills I have to put to use on a daily basis, general knowledge of Philadelphia and the tourism sector helps me navigate the strategic decisions I have to make," Parenti said.
The city of Philadelphia could be looked at as one giant product, but Parenti has found marketing one of the country's largest cities is much different than selling a phone or a pair of shoes. As soon as he realized how multifaceted the task was, he had to do a lot of sitting back and just watching and listening to his peers until he knew what he could contribute as well. He affirmed that it's a challenge but it's a lot of fun.

A part of the class of 2013, but graduating early in December of 2012,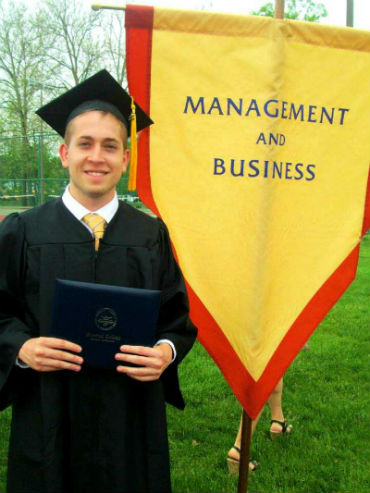 Parenti majored in international business. His experiences at Messiah, through a variety marketing and advertising courses, created a foundation applicable to the position he currently holds in Philadelphia. While classes are important—especially because Parenti is developing customized marketing plans for external organizations that involve media buying and advertising experience—the out-of-classroom experiences he had still stand out. The opportunities Messiah creates, such as networking events, studying abroad, Into the City trips and corporate site visits are what really brought Parenti's education to life.
"Those experiences dropped me in the center of what professional life looks like for many. No matter the line of work, the basics are vital," he says.
By embracing these opportunities and traveling around the world on IBI, the International Business Institute, Parenti got a head start when it came to understanding and feeling comfortable in the professional world. On the trip, he was able to speak with professionals around the world and ask them about their careers—helping him figure out his own along the way.
"That [IBI] program alone is at the top of my list as far as life experiences go. Getting to travel across the globe with other like-minded students—I still struggle to string together words that describe what an incredible learning experience that was," he adds.
From studying in London to sitting down and having dinner in India with corporate executives, Parenti had an once-in-a-lifetime journey.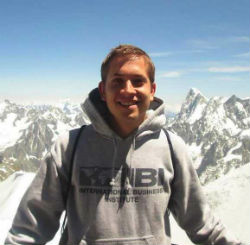 Parenti look back on Messiah as a foundational part of his life, both through classes, opportunities and friendships. And what about your friends from Lottie? Parenti says they still play an important role in his life.
"I'm a couple hours away from Grantham these days but it's comforting to think that I still share laughs with those same people pretty regularly today."