Tuesday, May 8, 2018
Category: Faculty and Staff
Residence life staff: support teams creating home sweet home
Molly Martin '19
A student reached out to Residence Director (RD) Amy Nicols through email: "hey, I don't know how to do this. My anxiety is acting up. Can we meet and talk about how I am going to get through this semester?"
Nicols receives a multitude of messages in her inbox each week asking her for help in various ways. From budgeting, to planning schedules, meeting with students, addressing roommate issues, directing resident assistants (RA), dealing with emotional struggles, and crisis control, an RD wears many different hats. Each day looks very different. The main role of an RD is to support the RA staff and spend at least a quarter of a 40-hour week meeting with them individually and in groups.
Amy Nicols Residence Director of Hess Residence & Kelly Apartments
"My greatest support this year has definitely been my RD, Julie, and the other RAs on my staff," said Mia Barnshaw '20, a resident assistant in Grantham Residence. "We all really care for one another, so I know they are always the ones I can go to when I'm struggling with a situation and they'll understand."
Messiah College's residence life staff pours themselves into caring for their students. According to Nicols, fellow RD Becky Woodruff likes to think of herself as a professional problem solver.
Crisis control means quick thinking and sound problem solving on their part. These individuals have daily interactions with students and come to know them fairly well. In fact, they are expected to be in good touch with students and have a pulse on the issues and concerns within the student body. Then, when an issue occurs, they are able to figure out the best way to care for students.
Some students reach out to residence life staff when they need help. Others send an email, ask to go for coffee, or even seek help in finding a mentor. RDs and RAs have connections and can assist in these situations. Nicols says that some students look for adults to help them. Students have sought her out for anxiety issues or just because she can provider a wiser and unbiased opinion. Because RDs have already completed college, they have experience and can offer insights from new perspectives.
But everyone doesn't always reach out when they are in need. Residence life staff members are always on the lookout for students and potential needs.
If a student fails to show up to class for weeks on end, some professors will reach out to the student's RD to make sure they are okay. "We like to think holistically. If a student does not attend class for a long time, it is probably not because they do not like it but because there is an underlying issue," Nicols explained. RDs are not your parents, but if something is wrong, they have the ability to check up on you.
It is no secret that requests for counseling services has reached an all-time high on campus. While there are many things that contribute to this situation, anxiety is one of the main reasons. Anxiety can come from many sources in a student's life, but Residence Director Julie Price says that students often share that most anxiety stems from academics.
If a student is stressed in the classroom, it tends to spread out into the rest of their lives, feeding anxiety like a snowball effect.
"I had an exam and I really did not do well," one student might say. She then goes to the library every night the week before her next exam, scribbling through notes and practice problems, highlighting key points, and flipping through Quizlet flash cards. Staying up until 1 a.m., she falls into bed exhausted, her roommate already sound asleep across the room. A few days of this and suddenly, her roommate is asking why she never has enough time to hang out. "Why am I not important anymore?" "Are you mad at me?" "You need to move your laundry, ok?" On top of that, exhaustion kicks in. A few days later, she sleeps though her alarm. Drained. Tired. Stressed. Missing class means playing catch up. She might miss work or practice to catch up and study, and suddenly their boss and coach want to have a meeting.
"I know I am not a licensed clinical counselor, but I see it a lot," Nicols shared. "I think a lot of anxiety comes from moments when students look at their to-do list for the week and physiologically react or shut down and watch Netflix without coming out of their room."
Having people check in is a good thing, but it is easy for something that was overwhelming to spiral out of control. Soon, any stressor heightens anxiety to a level that makes it hard to cope.
Being stressed about one exam can expand into more categories of life than just one. This is why residence directors at Messiah College like to think of students holistically.
And every situation is different.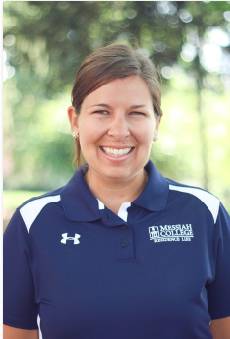 Responding to a crisis
In the case of an actual crisis, all residence life staff is trained to respond quickly and efficiently. In the case of an emergency, such as a panic attack or a suicide attempt, residence life staff is prepared to call other emergency aid as well.
One thing they learn in training his how to ground students. Usually when someone has a panic attack, they need to be reminded of what is around them—the here and now. Price says she tells students to feel the chair they are sitting in, who is in the room and what day it is, which slowly helps them deescalate. Then she starts asking grounding questions.
Julie Price Residence Director of Grantham Residence and Smith Apartments
Usually she uses scaling questions to get a glimpse of the situation—"How are they feeling from a scale of one to ten?" She might also ask things like "What did you do today?" "Who were you with?" "What might have made you upset?"
Usually, you can sense their voice, the speed and the sound," Nicols explained.
As the student calms down, the focus is the next 24 hours. They will hang out and study with a friend, go to bed, wake up, eat breakfast at Lottie. The RDs make sure students have a plan for the night and who they will be with.
Day by day: the role of an RA
The role of an RA, while it includes enforcing the policies and guidelines Messiah has in place, also includes creating a comfortable living environment for residents, and a safe, supportive person for residents to go to.While RDs are paid professionals, RAs are on the frontlines. RAs see people day by day. They say "hi" as they walk past students in the hallways and brush their teeth alongside their residents.
"I wanted to be an RA because I genuinely really love people and getting to build relationships with them," Barnshaw said. "I knew that in my role as an RA, it would mean more than just enforcing rules—it'd be more about showing people you care."
Relationships are key for RAs. Building relationships with residents allows for feelings of safety, and for many people, these feelings of safety keep anxiety at bay. RAs are taught to come alongside a person, not to ask intruding questions but to give a student space and a platform to talks about their stress.
RAs have filled the role of study buddy, coffee date and friend. They intentionally build relationships and offer both time and space. Floor events, such as cookie night, chicken parmesan dinner at a long table in Lottie, or hitting the high ropes course, introduce students to each other and their RA.
Some RAs work to make their residence halls more academic by offering study snacks in the lounges, and in some cases screen a movie so everyone can relax. Barnshaw hangs up chalkboards in her hallways for prayer requests and another section for students to write encouraging notes. With little flags and Bible verses lining the walls, it is not only aesthetically pleasing, but also welcoming. When people walk through the hallway, the residence hall floor feels more like a home.
Resident life hospitality
Both residence directors and resident assistants at Messiah want to be there for their students and provide the support they need. "I think hospitality is the perfect word for describing what we do," Price remarked.
"I really hope that students know we care," Nicols added. "It's not possible to meet all of them all the time… I don't think we would be in this job if we did not really care about them. It is a passion of ours to see students thrive and succeed."
For residence directors, it is really special becoming friends with students and watching them graduate. Some students send text messages when they get engaged, when they get hired, and when they move into an apartment for their first job that stemmed from a connection their resident director helped them find. RDs and RAs see the highs and lows.
It is Messiah's hope that students find a sense of peace in their residence halls and as they move on from Messiah. Nicols hopes they learn coping mechanisms here and figure out how to manage their stress so they can transition out knowing they are fully functioning humans, equipped to take on the world.