Tuesday, April 9, 2019
Category: News
Messiah students take first place in collegiate marketing competition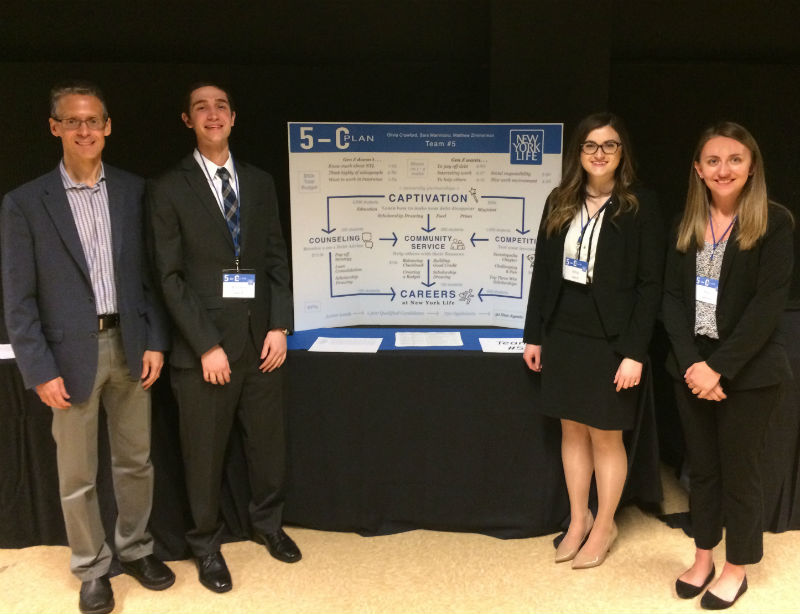 Students from Marketing Management and Strategy, Messiah's capstone marketing class taught by Professor David Hagenbuch, recently took first place in the American Marketing Association's 2019 Collegiate Marketing Plan competition in Pittsburgh, Pennsylvania. The team of three students—Olivia Crawford, Sara Mammano and Matthew Zimmerman—presented their plan at the competition on April 5 at Point Park University.
For the past six years, Pittsburgh's professional chapter of the American Marketing Association (AMA) has sponsored a marketing plan competition for undergraduate students. In mid-January, competition organizers distribute a case to participating schools that outlines a specific marketing need for a real organization. This year's client, the Pittsburgh/Johnstown Office of New York Life, wanted teams to identify how it could recruit more Generation Z employees. Messiah's team competed against schools like Duquesne University, Slippery Rock University, University of Pittsburgh, among others.
At the finale, teams first field questions from judges, all of whom are marketing professionals from the greater Pittsburgh area and from organizations such as Comcast Business, MedExpress, UPMC and several marketing firms.
You can learn more about the AMA competition here.