Tuesday, May 26, 2020
Category: News
Leanne Weaver '20
By Jake Miaczynski '20
In the middle of New York City, Leanne Weaver '20 positioned herself on the starting line for the one-mile race. Four minutes and fifty-eight seconds later,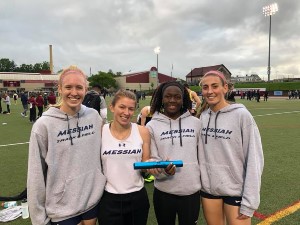 she became the first woman in Messiah women's track history to run a sub five-minute mile.
Her record-breaking time wasn't the only impressive feat at the meet. The Messiah women's 4x400m team, which Weaver is a part of, also became the first in program history to run a sub-four-minute relay.
Weaver says she has always loved running. She also fell in love with something else while at Messiah: computer information science.
After taking an introductory course, Weaver said, "I began to see the ways technology can make differences in the lives of others. With this mindset of service, she declared her major and continued to take more classes in computer information science.
On a normal day, Weaver splits her time between the computer lab and the track. She said, "I don't know if anyone can ever truthfully master balancing their life, but I have found ways to disconnect from the noise of life and focus on one thing at a time."
Intentionality is key. "If I'm
more intentional about what I take, I can also be intentional about what I have to give," she said.
When it's time to run, she switches gears.
"Running is a form of worship for me," Weaver said. "So much of my faith has been strengthened through the many ups and downs of running. When I use running to worship the Lord rather than as a means to glorify myself, I run more freely and can actually feel His strength and pleasure."
As for her next steps, this student already has a job lined up. She will work as a solution analyst for Deloitte Delivery Center in Mechanicsburg. And don't worry, she's already beat her mile record from New York. Shaving one second off, she can now run a 4:57 mile.