Tuesday, March 29, 2022
Category: Faculty and Staff
Learning and listening in Dr. Mindy Smith's Health Promotion course
by Carla Kelly '22
Dr. Mindy Smith is more than just a professor at Messiah University. She is an excellent example of what it means to be an agent of change and has redefined the way students perceive and promote a "healthy lifestyle" within the surrounding Harrisburg community. In her Health Promotion Management course, stude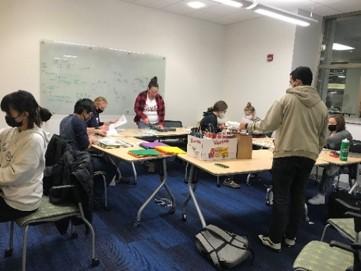 nts are given the opportunity to come alongside members of their very own community and explore ways to holistically support them, learning things that are uniquely valuable and applicable in real-world settings.
Throughout the semester, students work closely with the Brethren Housing Association (BHA), where one of the organization's missions is to support families who are experiencing homelessness. Students are actively assessing for interests and opinions in different areas of health. A health interest survey is designed by students so they can get feedback from families and staff at BHA in regards to what may be beneficial in supporting their health. The feedback they receive from these initial surveys is what helps students begin designing the tools they create, along with following up with the staff throughout the semester. Students are able to do this in a wide range of ways, from supporting staff to providing practical tools for families.
"With our focus on managing stress and promoting mental health this past fall, our groups created emoji cards and magnets for kids to express their feelings; discussion starters for families; positive parenting resources for different ages; posters that had exercise options to manage stress; QR codes to exercise videos, reflection, goal-setting and self-care journals for mothers at BHA; and staff self-care support tools," said Smith.
Smith explains that one of the significant elements of the course is that students are able to learn from and with people they may not have had the opportunity to interact with previously. She says the course encourages them to reflect on questions like "What does it mean to listen to and affirm someone's story that's different than mine?" or "How do we understand the concept of community? And how can we engage effectively within our communities?" with those in their very own backyard.
As students immerse themselves in this experience, they discuss ideas related to explicit and implicit bias as well as look at social determinants of health. Smith explains that the course emphasizes how health extends beyond the choices people make. Assessing the access individuals may or may not have plays such a crucial role in promoting a healthy lifestyle. Students focus on systems and physical environments as some of the important elements that need to be considered when looking at individuals' current health status. As students engage in these conversations and begin listening and learning from one another, they create what Smit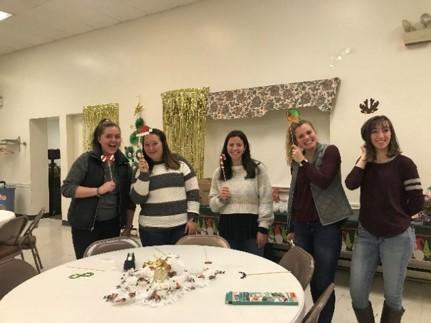 h calls a "rich learning environment" within the walls of the classroom. However, listening to and learning from the community they are serving is also part of what makes this course so impactful. Many of these conversations encourage students to authentically reflect on their own lives. While these conversations may seem like abstract ideas, they go beyond just discussing how things can change and as students begin participating in a different level of engagement, they turn these ideas into something tangible and take what they create to the community.
Smith says that this work goes beyond just the health promotion aspect and helps the students learn valuable skills related to communication and creativity. "Throughout the class, we learned how to properly serve others as a class/group/individual which included, using inclusive and careful language, creating useful tools, stepping away from what we want and figuring out what would be helpful to the families," said one of the students in Smith's class. "We learned how to listen to what the families needed, pray for them, and show the love of God through our work."
Smith is a Messiah alumna that jumped at the opportunity to come back and be a professor at the University. She says she works to create experiences beyond the classroom and is empowered to teach in an authentic way. Messiah is a space where Smith is able to integrate her faith on a daily basis and blend her interest in healthcare with love for people. Her work with students gives her so much hope for the future and the change that she knows can happen. Each semester, she learns so much from them throughout this process and truly believes her students will be agents of that change. Many students leave the course seeing both their profession and interactions with their community in a different light. "This class helped me to open my eyes to the communities we have around us…there is a real-world outside of Messiah and this class helped to make clear of that," said a student.