Accredited Bachelor's in Business Administration 100 Percent Online at Messiah University
Messiah University's healthcare management BBA concentration prepares you for the unique challenges of the healthcare industry, from budget and organizational structuring to reputation management and patient satisfaction.
Program overview
Messiah University's accredited 100 percent online Bachelor's in Business Administration degree is designed for working professionals who are ready to finish their degree program, expand their career opportunities and earning potential, and have a positive impact on their organizations and the communities in which they serve.
Program details:
120 credits (total program length dependent on number of total transferred credits)

Fully online

$425 per credit, no-fee tuition

No application fee

8-week courses

Practical courses that provide immediate value to your workplace

Faculty and staff who make your success their priority
Earning your Bachelor's in Business Administration with our healthcare management  concentration will open up many career opportunities across industries. Some examples of career roles include:
Median Projected Rate of Growth for Business Administration with a Concentration in Healthcare Management-related Roles (data obtained from the U.S. Bureau of Labor Statistics)
Additionally, the estimated average base pay for Business Administration-related roles for those with a bachelor's degree is $54,255 annually according to PayScale (salary estimate is based on 876 individual salaries reported to PayScale as of March 24, 2020 and does not include additional pay such as benefits, bonuses, profit sharing, or commissions). 
Ready to start your business administration journey with Messiah University's 100 percent online Bachelor's in Business Administration degree with a healthcare management concentration? Start your free application now.
Core Requirements (45 credits)
Financial Accounting 
Managerial Accounting
Principles of Management
Business Law
Strategic Management
Communication in the Workplace
Strategic Use of Information Technology
Principles of Macroeconomics
Principles of Microeconomics
Financial Management
Human Resources Management
Leading Diverse Teams
Leading Organizational Change
Marketing Principles
Applied Statistics for Management
Concentration Requirements (9 credits)
Leading Organizational Change (met in core requirements)
Healthcare Policy
Health Informatics
Economics of Healthcare
General Adult Education Requirements (31 credits)
Orientation
Writing
Communication in the Workplace (met in core requirements)
Quantitative Reasoning and Numeracy
Scientific Investigation
Social Sciences (met in core requirements)
Literature, Religion, Philosophy, History, and Arts
Christian Faith
Ethics
Intercultural Competence (met in core requirements)
Wellness
Planning to take your studies even further? Students can complete up to 9 graduate credit hours by completing this program.
Elective Requirements (35 credits)
BBA, Healthcare Management Tuition Cost
$425 per credit, no-fee tuition
Know what you are paying for with Messiah's no-fee tuition. With our 100 percent online Bachelor's in Business Administration, the cost per credit is what you pay – there are no hidden fees for labs, courses, services or technology. We put the true cost of your program upfront so that you can accurately compare and plan for your education.
2023-2024 tuition per credit hour: $425
Tuition cost for the entire 120 credit-hour program at the 2023-2024 rate, based on the average student transferring in 24 credits: $40,800.
Online students are eligible to apply for federal financial aid.
Application requirements
Completed application.
Official transcripts from all post-secondary institutions documenting a minimum of 24 transferable credit hours and a minimum cumulative GPA of a 2.0.

If student has some college but does not meet the required 24 credit hours and/or minimum GPA: 

a writing sample must be submitted
the student must complete an interview with the Program Director.  
Next course start dates
Late summer: June 18, 2023

Early fall: August 20, 2023

Late fall: October 22, 2023
How to apply
To get started with your free application to Messiah University, simply create an account on our website. 
The benefits of earning your online Bachelor in Business Administration at Messiah University are endless.
Accredited, Faith-Based, Convenient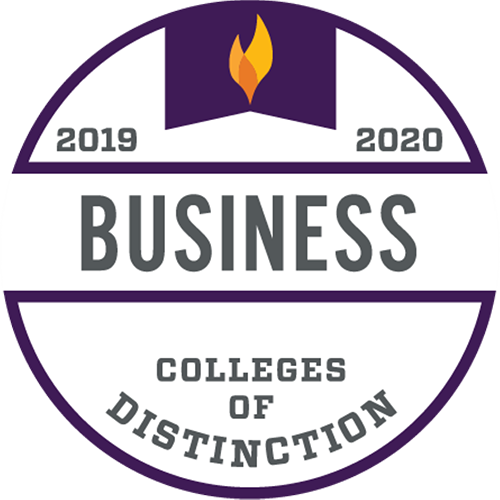 As part of our continued commitment to excellence as an institution of higher education, Messiah is: 
Accredited by the Middle States Commission on Higher Education
A member institution of the Accreditation Council for Business Schools and Programs (ACBSP)
Named the #1 Best Business Degree Program for 2017 by Christian Universities Online
A 2019-2020 national "Business College of Distinction"
A respected member of the Central Pennsylvania community whose graduates are highly sought after for roles across the Commonwealth and beyond
Extracurricular and On-Campus Opportunities
Even as an online student, Messiah still provides you with extracurricular and on-campus activities to supplement your learning experience and give you additional opportunities to gain skills, network, and more.
Extracurricular and On-Campus Opportunities include:
Impact Venture Challenge
Bloomberg Trading Challenge
6-8 Business Networking and Messiah Business Institute on-campus events per year
Ready to start your business administration journey with Messiah University's 100 percent online Bachelor's in Business Administration with a Healthcare Management concentration?" Start your free application now.
I can help!
Leah Conner
Assistant Director of Enrollment for Graduate Studies & Adult Education