"Point and Line to Plane"
Date: September 1st, 2017 - December 12th, 2017
Every day
Location: High Center Galleries, Upper Level
Cost: Free and open to the public
"Point and Line to Plane" Brenton Good, curator
High Center, High Center Galleries (upper)
Point and Line to Plane
Guest Curated by Brenton Good
In spite of all the apparently insurmountable contradictions, the present-day human being is, indeed, no longer satisfied with the external alone. His vision is becoming sharper, his ear keener, and his desire to see and to hear the inner in the outer ever increases.
Wasilly Kandinsky, Point and Line to Plane, 1926
The exhibition Point and Line to Plane is the second in a series of shows that examine artwork selected from Messiah College's Permanent Art Collection.
Point and Line to Plane takes its title from a pivotal 1926 essay by the Russian painter Wassily Kandinsky. Famous for being one of the first modern artists to investigate abstraction in his artwork, he also became one of the prime instructors at the Bauhaus in Germany. His writings on both the spiritual and formal elements of art have become spectacular windows into the thought process behind his studio practice. He utilizes a methodical approach to exhaustively investigate each formal element, also applying them to disciplines like music, dance, and architecture.
Selected quotations from the text appear below – as directives for the viewer to investigate how the specific works in this exhibition exist together in conversation with one another.
POINT
Thus we look upon the geometric point as the ultimate and most singular union of silence and speech.
LINE
This is the straight line whose tension represents the most concise form of the potentiality for endless movement.
PLANE
This pulsation of the basic plane…is transformed into double and multiple sounds when the simplest element is placed upon the basic plane. The properly trained eye must have the ability partly to see the plane, as such, necessary to the work of art and partly to disregard it when it takes on spatial form. A simple complex of lines can finally be treated in two ways – either it has become one with the basic plane or it lies free in space. The point clawing its way into the plane is also able to free itself form the plane and to "float" in space.
Brenton Good is Associate Professor of Art at Messiah College and Chair of the Department of Visual Arts. Brenton is a printmaker and painter who has exhibited his work internationally. His writing has also appeared in the journal Image and the UTNE Reader, along with a variety of exhibition catalogs.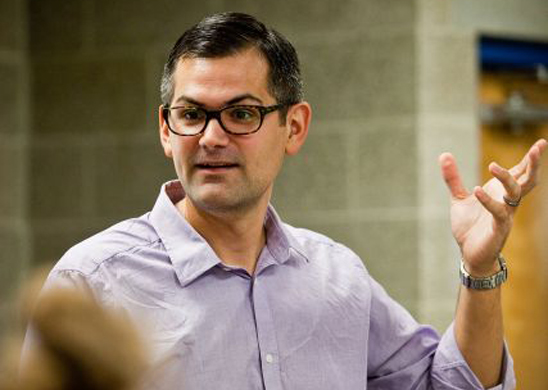 Gallery Hours Monday – Friday:9 a.m.–4 p.m.
Evenings and weekends with High Center events.
For more details, visit arts.messiah.edu