"The Boy Friend" Feb. 8-10, 8:00 p.m. and Feb. 11 & 18, 3:00 p.m.
Date: February 8th, 2018 - February 10th, 2018
Every day
Location: Climenhaga Building, Miller Theater
Time: 8:00pm - 11:00pm
Cost: $7 Youth -18 & Under; $7 Sr. Citizen; $12 Adult. To purchase, please contact the Messiah College Ticket Office at 717-691-6036 or online at messiah.edu/tickets.
Book, Music and Lyrics by Sandy Wilson Directed by Daniel Inouye Music direction by Elaine Henderson
Set against the backdrop of the French Riviera, this romantic spoof of 1920s musical comedies tells the story of English heiress, Polly, who is longing for only one thing: a boyfriend. Polly's father, convinced that any boy who isn't wealthy will court Polly strictly for her financial situation, forbids her to engage any potential suitors. Honoring his wishes, Polly explains to Tony, the messenger boy with whom she's fallen in love, that she is no rich girl.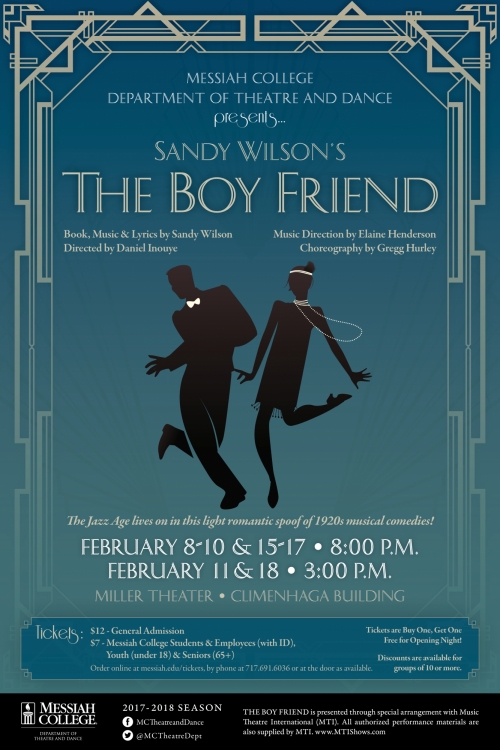 Tickets can be purchased online at messiah.edu/tickets, by phone at 717-691-6036, or at the door as available.