Ordering your cap, gown and hood for the Commencement ceremony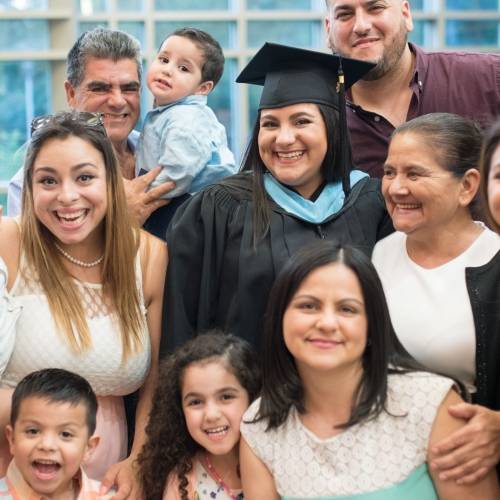 Graduates from the School of Graduate and Professional Studies wear caps, gowns, and hoods that visually represent the specific academic discipline of their degree. Graduates must have regalia to be able to participate in the Commencement ceremony, and should purchase their regalia through the official supplier, Oak Hall. The complete outfit includes the gown, cap, tassel, and hood. A portion of the hood will be colored according to your program so be sure to mark your specific degree on the order form.
Doctoral Program Candidates
All doctoral program candidates will wear souvenir doctoral regalia for the commencement ceremony. Click below to place your order.
Deadline to order is April 20, 2022. Allow enough time and verify your order!
Please allow plenty of time for delivery, since you will be unable to participate in the commencement ceremony without your regalia. When you receive your regalia, please check immediately to verify that you have received the appropriate hood color:
Master of Music in Conducting: Pink
Master of Arts in Counseling: Light Blue
Master of Education: Light Blue
Master of Arts in Healthcare Leadership: Royal Blue
Master of Arts in Higher Education: Light Blue
Master of Arts in Intercollegiate Athletic Leadership: Light Blue
Master of Arts in Strategic Leadership: Royal Blue
Master of Business Administration: Drab
Master of Science in Nursing: Apricot
Master of Occupational Therapy: Smoke Blue
Doctor of Nursing Practice: Apricot
Doctor of Physical Therapy: Teal
Questions?
If you have any questions about this process, please contact the Messiah University Purchasing Office at purchasing@messiah.edu or (717) 766-2511, ext. 6010.