It is not necessary to get an estimate on projects you are sending us, but if you would like one, please use one of these three options:
Email CollegePress@Messiah.edu with the details of your project (See below for required information) and a representative will contact you.
Submit an on-line request form through MC Square and note at the bottom of the form that you require an estimate before we begin any work on the project
Call us at Ext 6030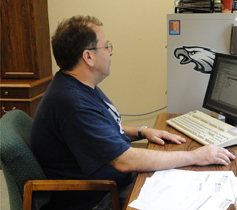 The turnaround time for estimates will vary according to the complexity of your request. Most estimates are completed within 24-48 hours of receiving the complete information. More complex or multiple estimates may take longer to complete.
Once an estimate is completed, a copy will be sent to you by email. Please provide your estimate number when placing your order even if the project may have changed slightly from what was originally estimated.
Will my final cost be the same as the estimate?
Not always, but most of the time it will be close. Your final costs may vary from the estimated costs if we don't have complete information when doing the estimate. The more accurate information you provide the closer the estimate will be to the final costs. If you are able to provide us with a hard copy or PDF sample of your project, it will help us to be more accurate in our estimate. Once we receive your order and have an opportunity to look at your files we can provide final costs if needed.
Information needed for an estimate:
Quantity
Indicate the quantity for each piece we are estimating.
Number of pages and sheets
Indicate single-sided or double-sided printing.
Stock
Be as specific as possible. If uncertain, list text or cover weight and we will determine a stock that will be suitable for your project or call us to discuss. You may also contact us for samples or you may request a free copy of our paper swatch book.
Color of stock
Be as specific as possible. If uncertain, indicate a general color such as pink, blue, green, etc.
Size
Indicate the flat size (size before it is folded or bound) and the finished size (size after it is folded or bound).
Color of inks
Be specific and list all colors used. If there are multiple pages, indicate the number of pages printing black only, 4 color or spot colors. Indicate the PMS colors for the spot colors.
Binding
Indicate the type of binding required if needed. (Folding, Booklet Making, etc)
Mailing
Indicate quantity and provide details about all pieces that will be used in the mailing. We will need to know the sizes and weights of any additional pieces you will be furnishing if this is applicable. Indicate the method of mailing-- first class, standard (bulk) or other. All postage will be estimated as closely as possible using the best rates available. Postage discounts cannot be accurately determined unless we have a final mailing list.
Special Instructions
Please list any other information that would be helpful in determining your estimate.