Welcome to Messiah University Intramural Sports!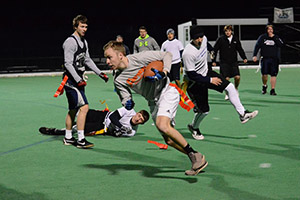 Our intramural sports program is dedicated to facilitating a fun, safe, and competitive outlet for Messiah University students and employees to participate in organized sports activities while exemplifying Christ-like attitudes and sportsmanship. Intramural sports help students create lasting memories and friendships, build and develop character, and enjoy a physical challenge. We look forward to seeing you on the field!
Register for Intramural Sports, Create or Join a Team via: falconrec.messiah.edu.
Contact lluckenbaugh@messiah.edu with questions.
Before you can participate in intramural sports, you will first need to navigate to our imleagues page and create an account.
Students & Employees
Click on the Intramural whistle
Press the Messiah SSO Login (you must login using your Messiah credentials)
Click the orange Intramural Sports imleagues access button
Once you have made it past this page your account is automatically created, and you can explore our intramural sports page by clicking on the "Sports" home button.
Rules can be found on our imleagues sports home page under the Handbooks/Manuals tab on the lefthand side of the website. Here you can download and view rules for each of the sports we offer along with our Intramural Sports Handbook which has policies and procedures for how intramural sports are run.
All current Messiah University undergraduate and graduate students (full and part time) and MU employees can participate in any Intramural Sports activities.
Messiah Alumni are not allowed to participate. Spouses and children of employees, alumni, and students are not eligible to play unless they fall into one of the above-mentioned categories.
CLUB PLAYERS: Members of a club sport are defined as students who participated or practiced with the club during the current academic year. The number of club players per intramural team is limited depending on the sport and will be communicated by the office of Student Engagement.
INTERCOLLEGIATE ATHLETES: Current intercollegiate athletes are defined as any individual that is on the roster of an intercollegiate team. Varsity and Junior Varsity players are both considered to be intercollegiate athletes. Players who are "trying out" or working out with a team are considered to be on the team unless they are cut prior to the first contest of the traditional season. These athletes are NOT eligible to participate in their respective sport or a related sport. Even an athlete who has utilized all their NCAA eligibility is not eligible for intramural sports.
PROFESSIONAL ATHLETES: A professional athlete is defined as one who has received monetary compensation for his/her athletic service. Current professionals are NOT eligible in their respective sport or a related sport. Former professionals may be granted an exception but must obtain prior approval by the intramural sports staff.
Game times and locations vary depending on the sport. Both will be indicated via email to the captains of the teams participating. In most cases sports will run between 5:00PM - 10:00PM, Monday through Thursday. In some instances, rescheduled games may be played on Friday's, and special events may be offered on a Friday or Saturday night. Outdoor sports are played on the Intramural Sports soccer field, Lacrosse Turf, Upper Baseball, Anderson Turf, and the sand volleyball courts behind Mellinger, and Kelly apartments. Indoor sports are played in Sawyer and Brubaker gymnasiums, which are located in the Sollenberger Sports Center.
Intramurals offers a variety of leagues and tournaments throughout the semester. Below is a list of sports that could be offered during your time at Messiah.
Coed Outdoor (Sand) Volleyball 
3v3 Basketball                            
7v7 Flag Football   
5v5 Basketball
Pickleball
7v7 Outdoor Soccer 
Wiffleball
Dodgeball     
Indoor Volleyball 
3v3 Outdoor (Sand) Volleyball
Kickball                      
Indoor Soccer                          
Ultimate Frisbee            
Ping Pong                        
Cornhole 
Floor Hockey
We are always looking to expand the type of sports we can offer to students if you have a recommendation for a sport email our office StudentEngagement@messiah.edu.
The intramural sports office is located upstairs inside of our Larson Student Union building.
Absolutely! If you like sports, people, and having fun while working contact us. Work schedules are flexible, no experience is needed, and you can still play Intramural Sports! We are always looking for student workers to help keep our program strong. Interested candidates can go visit our student employment page at https://jobs.messiah.edu or email the office of Student Engagement.
Yes! If you download the imleagues app you will have access to our intramural sports page where you can see what sports are being offered and the ability to join a team. Once on a team you will be able to see your league schedule of when and where your games will be played for the season. If you are looking to create a team, we recommend doing it through the webpage and login on a computer for easier viewing and navigation.
Sub-categories of Intramural sports