How to Schedule a Tutoring Session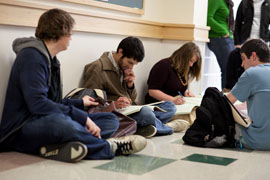 Appointments with Learning Center tutors may be scheduled online via Self-Service. Log into MCSquare and then click on "Writing Center/Learning Center Appointments" in the "Student Quicklinks" section. Click "New Appointment", "Learning Center", and follow the prompts to choose your desired time slot.
For further assistance, you may call x7258 or come by the Learning Center, Library 110 (Mon.-Thurs. 3-10pm)
Other protocol:
Please be sure to come on time to your session. If you are more than five minutes late, walk-ins will be accommodated in your place.
If you are unable to come to your scheduled session, you may cancel your appointment online up to 4 hours before scheduled appointment. If it is 4 hours or less, please call x7209 to cancel your appointment.
You may arrange to have a text message or e-mail reminder sent to you about your appointment, which is located on the contact information page of the "Learning Center Tutor Scheduling" link.
We are closed the day before breaks, during all breaks, and during finals week.