Field Experiences:
Students will have multiple and varied opportunities to observe and practice skills in public and private school classrooms. The sophomore field experience will expose students to multiple classrooms, age levels, and school types. The junior field experience will allow students to spend extended periods of time in public schools during each semester with qualified mentors, both in schools and from the university, mediating those experiences. The senior year will include a semester of full-time public school student teaching. For PK-4 and Special Education students, the senior year will also include a field experience in a quality early childhood center or segregated special education setting.
Special Education: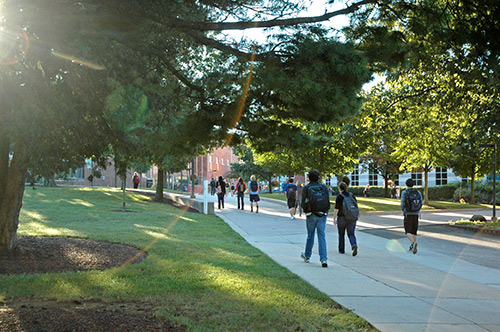 All certification students will be exposed to the equivalent of 9 credits of special education content to equip them to work with a wide range of learners in their classrooms. Students pursuing special education certification will have a total of 30 credits of special education content.
Supervision:
Our university supervisors are all professional educators who are committed to providing a quality experience for the students they mentor. In addition to our full-time faculty, we have former district superintendents, principals, curriculum supervisors, and classroom teachers who serve as university supervisors for our field experience students. Supervisors visit and observe students in the junior level field experiences to determine readiness for student teaching. Frequent visits during student teaching enable the supervisor to assist the student teacher in the development and enhancement of their professional teaching and classroom management skills. Supervisors offer the expertise and support necessary to prepare the student for the teaching profession.
Our Students:
Public school teachers who host student teachers often list well prepared, quality students as one of the strengths of our Teacher Education Program. At Messiah. you will spend your days with peers who are committed Christians, conscientious students, and remarkable people. The personal and professional relationships you build with Messiah University friends may become some of the most important in your life for many years to come.
Christian Faith:
Along with providing meaningful experiences for our students, our faculty is committed to modeling Christian faith and principles and to encouraging students to actively consider how their faith informs their decisions and actions in classrooms, as well as their overall philosophy of education.