Is a three-year or accelerated program right for me?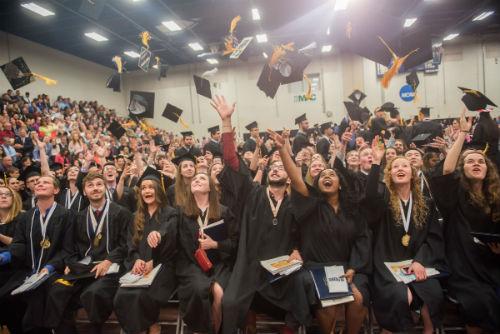 Of course your Messiah College education is much richer than simply earning credits towards a degree. Your years at Messiah will be filled with life-changing learning and relationships that will open up amazing possibilities. So while graduating early can certainly save you time and money, it's also important to explore upfront whether or not this option is right for you, is viable for your major, and will best serve your personal education and career goals.
Here are some key questions to consider:
If you wish to graduate early, it is essential to connect with your academic advisor as soon as you arrive at Messiah to develop an individual game plan. If you do not know which major you want to pursue early on, it will be more difficult (but not necessarily impossible) to determine an effective plan for early graduation.
There are certain majors that lend themselves more readily for graduating early, majors in the humanities, business, and the social sciences, for example. Equally, there are majors that are not conducive to accelerated graduation due to their rigorous clinical, lab, practicum, or student teaching requirements, for example, majors such as nursing, engineering and education programs designed for teacher certification. To determine if your course of study has potential for an accelerated path, speak with your academic advisor when you arrive at Messiah, or prior to that time, contact Carrie Widdowson, Registrar, at 717.796.1800, ext. 2492, or CWiddowson@messiah.edu.
Typically, working toward the goal of graduating early requires you to plan early and focus-often taking full credit capacity for the majority, or all, of your semesters at Messiah. It can also involve summer online coursework. Messiah provides all of its students with a challenging, academically excellent education, and taking a full credit load every semester (and possibly during the summer) is not the right path for everyone. You need to determine if your academic track record and personal learning style will be conducive to this goal.
In addition to learning that takes place in a classroom setting, Messiah invites you to choose from a variety of extracurricular interests including intercollegiate and intramural athletics; theater, music, dance, and other performance ensembles; student-run media such as Messiah's newspaper, radio station and yearbook; ministry and service groups; and just about every student club or organization that you can possibly think of! With all of these options to get involved at Messiah, you'll need to decide if your interests and commitments outside of the classroom will facilitate your taking a full academic credit load for all, or the majority, of your semesters at Messiah College.
 Are you willing to take courses during the summer months? As shown in some of our summary examples, accumulating credit through online courses during Messiah's summer session may be necessary (although not in every situation) to meet your goal for early graduation. It's important to consider in advance if this is something that you are willing or able to do if necessary to meet your goals.