Explore your opportunity to earn a degree in three years at Messiah University
At Messiah, you have the opportunity to leverage your investment and achieve your goals ahead of schedule in certain majors by earning your bachelor's degree in three or 3½ years. Some students choose to graduate early to reduce the costs of tuition, student loans, and other college-related expenses. Other students want to get a head start on their career or graduate school. For many students, it's a little of both.
Whatever your reason for considering a three-year or other accelerated degree, it's important to understand what's involved and whether this opportunity is right for you.
"Three ways to three years" @ Messiah
If you are interested in the opportunity to graduate early, click any of the options below to explore a combination of three main strategies: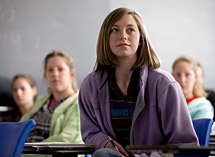 At Messiah, graduating one year early can save you as much as $50,000;* graduating even one semester early can save you more than $25,000* all while giving you a head start on your career or graduate school.
*Savings estimated based on 2018-2019 "sticker price" for standard full-time academic year tuition, six credits of summer online course tuition, student fees, average room costs, maxiumum board costs, and estimates for textbook expenses. These savings estimates do not reflect the adjustments that would need to be made to reflect the specific financial aid circumstances of individual students.
Messiah University allows students to count up to 32 semester hours of alternative credit toward graduation. Every year, about one-third of Messiah's new, incoming first-year students start their college career having already earned anywhere from three to 32 number of alternative credits towards their degree. Students can achieve this through a variety of ways such as Advanced Placement (AP) Examinations; College Level Examination Program (CLEP); International Baccalaureate courses; or a dual enrollment program (being enrolled simultaneously in high school and college-level online coursework).
Depending on your desired major, entering Messiah University with this type of alternative credit may or may not be necessary to achieve your early graduation goal. It is important to familiarize yourself with the credit requirements for the major you are interested in to understand the alternative credit equivalencies that Messiah will count, and to work with your academic advisor as early as possible to assess your goals and determine a plan to achieve them.
Completing an undergraduate degree at Messiah requires between 123-128 credits, depending on your specific major. As a full-time Messiah student, you can take as many as 18 credits in a semester with no extra cost. Students who take 18 credits each semester can earn as much as 108 credits in six semesters (three years) and 126 credits in seven semesters (3 ½ years) without paying extra in tuition. By taking advantage of the maximum credit load allowed each semester, you can maximize your opportunity to graduate early.
It's important to note that your ability to take 18 credits each semester can be impacted by a variety of factors, including your individual learning abilities/capacity, involvement in extra-curricular activities, participation in cross-cultural or study abroad courses, practicum/clinical/lab requirements of your major and many others. This is why it is essential to work with your academic advisor as early as possible to determine an individualized game plan to determine if this is an option for you.
Messiah University offers a summer session of online courses which enables you to take up to six credits (two courses) each summer. [Note: summer credit hours incur separate, additional tuition from standard academic year tuition, but at a reduced rate.]
Messiah's summer session provides you the opportunity to accumulate credit toward your goal to graduate early. Summer courses typically fulfill general education credits, although they can also meet major-specific requirements depending on the specific courses offered each summer. Depending on which major or degree you are pursuing, and the amount of alternative credit you entered Messiah with, summer session credit may or not be necessary to meet your early graduation goal.
Questions?
Contact Kathee Clark, Registrar, at 717.796.1800, ext. 2492, or via email at kclark@messiah.edu; or Gladys Robalino, director of undergraduate academic advising, at 717.796.1800, ext. 7033, or via email at GRobalino@messiah.edu.