Doug Wood
Dean of Students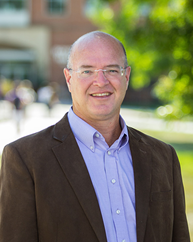 Doug joined the Messiah University family in August of 1997.
Ten Questions about Doug
Hometown: Shaker Heights, OH
College and Graduate School: BA Houghton College, MS Ed. Alfred University
Favorite activity: Canoeing with my daughters
Favorite color: Azure
Weirdest food ever eaten: Dog (true story!)
Why did you come to Messiah and what do you like about your job? People and mission.
Favorite Bible verse: "Until your old age and grey hair, I am He. I am He who will sustain you. I have made you and I will carry you. I will sustain you and I will rescue you." Isaiah 46:4
Favorite movie: Forrest Gump
What are you currently reading? Simply Christian, by NT Wright.
Favorite breakfast cereal? Quaker Instant Oatmeal
If you were stranded on a deserted island and could only bring one physical possession with you, what would you bring? My Bible
If you could change places with one person for a day, who would you change places with and why? A 20 year old college student. Although I remember my undergraduate experience quite well, times are different. What's it really like?
Contact Information:
Doug Wood
Dean of Students
Messiah University
One University Avenue
Mechanicsburg, PA 17055
Tel.: (717) 796-5239
Fax: (717) 796-5379
dwood@messiah.edu
Doug's Office Hours:
The Academic Year:
Monday - Friday - 9:00 a.m. - 5:00 p.m.
Summer:
Monday - Thursday - 9:00 a.m. - 5:00 p.m.