Cultural arts
Messiah University hosts a variety of art exhibits, concerts, recitals and musical and theatre performances that are open, and often free, to the public. In 2013, Messiah University opened the Calvin and Janet High Center for Worship and Performing Arts, and uses this venue to host prominent national speakers and recording artists for the public; host educational workshops and competition for regional students; provide continuing education opportunities for local educators and other professionals; and regularly contribute to the local arts community, including affiliations with the Harrisburg Symphony Orchestra and the State Street Academy of Music.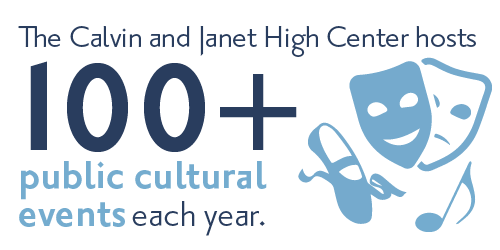 Public cultural programming from the School of the Arts
Art exhibits
Messiah University has three on-campus art galleries: Aughinbaugh Gallery; Climenhaga Galleries; and the High Center Galleries; that host 15 to 20 art exhibitions annually; free to the public—in addition to multiple artist's talks and receptions.
Theatre and dance performances
Messiah University's Miller Theatre and Poorman Blackbox (both located in the Climenhaga Building), host seven to 10 productions annually, for a total of 30-35 performances.
Messiah hosts five dance performances annually in the Pollock Dance Studio, located in the Climenhaga Building.
Music performances
The Calvin and Janet High Center hosts 110-120 annual musical performances, including student and faculty recitals, ensemble performances and guest artists.
7 to 10 free performances during summer camps/festivals – Poorman Blackbox, High Foundation Recital Hall, Parmer Hall
Off-campus concerts
Messiah University ensembles from the Department of Music perform 20–25 free concerts in the Harrisburg metropolitan area each year.
Several Messiah ensembles travel on regional, national and international tours, including the Messiah University Concert Choir, the Wind Ensemble and Jazz Banc
Regional arts partnerships
Faculty, alumni and current students collaborate/partner with the following regional arts organizations:
Harrisburg Symphony Orchestra
Susquehanna Chorale
Central Pennsylvania Friends of Jazz
Harrisburg Theatre
Open Stage
Susquehanna Art Museum
Perry County Council of the Arts
Summer camps and conferences
Last year, Messiah hosted 73 conferences and camps, serving nearly 5,500 guests---with half of those participating in a summer youth or sports camp.
Messiah hosts summer youth camps in psychology, sustainability, family and consumer science, filmmaking, theatre, jazz performance, dance, writing, Christian faith development, chamber music, string orchestra—and more than 14 different sports camps.