Monday, April 9, 2018
Category: Service
Mission field: Students on an Agape Center spring break trip head to the Bronx
Molly Martin '19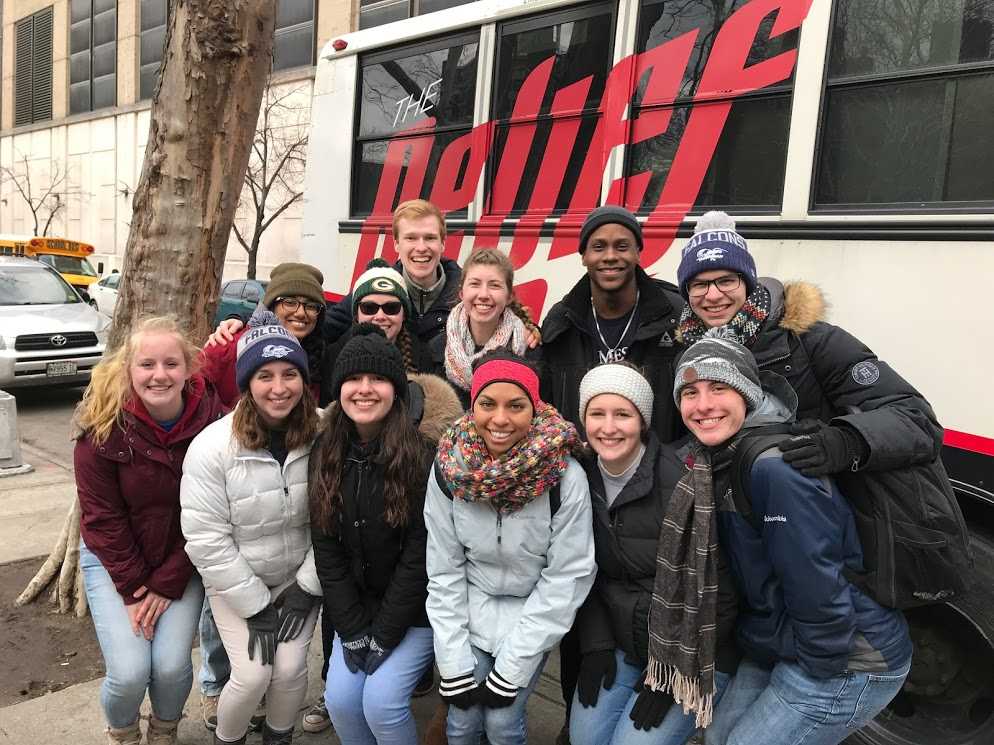 "Bronx, NY" caught my eye and I thought, "Why not?"
Jake Miaczynski '20 fondly reflected on his first spring break trip in 2016. That trip left a lasting impression. What was once a playground has become a mission field. New York City has towering skyscrapers, underground subways, and millions of people with which to love and share a glimmer of hope.
Two weeks ago, just a little over a year since his eyes landed on the first "Bronx, NY" flyer, Miaczynski got into the driver's seat of a white Messiah College van to co-lead a group of twelve students back to the Bronx with Seth Williams '19—his fifth trip with the Agape Center and Priority 1 Ministries.
Laying on the beach or napping with pets at home over is where you will
find most college students over spring break, but these twelve were exploring unknown paths in the middle of one of the busiest cities in the world.
While in the Big Apple, Miaczynski and his team partnered with many outreach programs and ministries in the Bronx and New York area. Priority 1 Ministries helped the team make connections and find places where the student's helpful hands and servant-like hearts could be put to use. World Vision, Manna of Life Ministries, Manhattan Christian Academy and the New York City Relief Bus were among some of the groups they joined. Aligning with the spring break team's aspirations to give and to love, all these organizations are situated in the city and work to help others. They focus on different areas of life, but instill goodness in areas of need.
A mobile soup kitchen, New York City Relief Bus serves the homeless in
New York City and New Jersey. Volunteers on the bus distribute socks and health kits. It also features a small office for individuals to get specific help and information about shelters, rehabilitation and other useful resources. The team from Messiah worked at Chelsea Park in Manhattan fellowshipping, talking and praying with the homeless community and others in the park.
Reaching the people was of utmost importance—even more so than volunteering with different programs in the city. By working with Priority 1 Ministries, the team found a platform to grow. Soon they were consistently serving individuals in the city firsthand, just as they did in Chelsea Park.
While handing out socks and health kits is important, the conversations the students began with the people around them had more impact. Whether on the bus, train or walking around the neighborhood, Miaczynski was searching for people to interact with. And God sent them.
"We want people to see Jesus through us before they hear it," Miaczynski said.
On Friday, the group donned their best walking shoes and traveled to Manhattan for the Amazing Grace prayer walk. Spanning some of the most popular locations of New York City, the team spent the morning reflecting. While vendors roasted sweet peanuts and smoke rose up from the cracks in the sidewalk, car horns and shouting filled the air. Billboards flickered through advertisements. Fifth Avenue sparkled and rich celebrities hid behind wide brimmed hats or dark sunglasses. An amalgamation of millions of different people, with different statuses, hometowns and nationalities, the city is a bustling place. The team was right in the middle of it all.
Walking to specific locations like One World Trade Center, Grand Central, New York University, Fifth Avenue and Central Park, they prayed. They prayed for the people they passed. The ones they stopped to meet. Their country. The world. According to the team, the walk was a way to experience the city that opened their eyes to more than the common tourist attractions.
Their feet padded along concrete sidewalks and across streets in a place that is always noisy, wide-awake and moving. Yet, they found evidence of God throughout. They were some of the rare few that actually slowed down and soaked it in. Then they reached out to the vastness.
Before even sharing the gospel, the team sought for ways to love. To serve a homeless man in need. To talk to a person on the street.
Made up of simple college students—who usually have a bad reputation with the rest of society—this team reversed that reputation. They were driven to serve. But why?
"I'm driven to serve because there are people out there who have so much less, yet are filled with so much joy. Because I was born into a place of power and privilege, and through my service I choose to use that place to benefit and help others," Miaczynski said. "I'm driven to serve because every time I go to the Bronx, I see a resiliency in its people unlike no other. I see courage and strength whose source comes from Christ alone. I'm amazed and encouraged by the faith of the people I serve, and at times I feel as if they pour into me more than I could ever pour into them."
Similar to the passions of her trip leader, Maggie Keller '19 shared that she
feels closer to God when she serves. In fact, Keller did not sign up for this trip but ended up going because of a last minute email. There was one spot left on the trip once she opened her email. Her finger typing a quick response, Keller ended up pressing send and saying "yes."
"It was definitely a God thing that I went on this service trip," Keller said. "I am so incredibly happy that I went on it because it changed me in many ways."
The team maintained their servant-like attitudes through the trip by reflecting on the resiliency of the Bronx and the true humanity they saw in their interactions. People are not perfect, but they can give and receive love.
"We're inspired by seeing God move in the hearts of both team members and the people we serve. It's like we're watching our prayers come to pass right before our eyes—there's nothing quite like it," Miaczynski added.
The team also met Juan Galloway, the President of NYC Relief Bus. It was one of those "it's-a-small-world" moments unique to New York City. Despite the height of the skyscrapers and number of people living and working behind the shaded glass windows that reach towards the skies, it is possible to make connections. One tiny person that just might change your life.
Before the team turned to greet him, Galloway had already spent a few days living on the streets of New York. His goal? To live as if he was homeless for a week. He set up camp around 5th Avenue, Wall Street and other popular destinations in the city. The icy wind stung his face and created a constant chill, the sidewalks were uncomfortable, and finding a safe place to really rest was nearly impossible. No hot showers were available and no home cooked meals were waiting for him on the dinner table at home.
For days, he held up a sign that read, "Imagine if you were homeless."
Most people never spoke to him. They quickly averted their eyes or skirted around him. If a person did approach, Galloway would use his state as a platform to educate the passersby on the issue of poverty in the city.
After his project, Galloway shared the results of his experimental week sleeping and living on the streets of the city with Liquid Church. He told the congregation of 4,000 people that during these seven days, he was nameless, invisible, neglected. Only two times did someone ask him his name. He went on to say that the second time someone asked him his name, he was begging on 5th Ave. Three 18-year-old girls walked right up to him, looked him in the eye and asked him his name. He told the congregation about how these young ladies talked with him and prayed over him. That he felt and saw Jesus through them because of their genuine love and concern. These were eighteen-year-old girls that could have been doing something else, like shopping on 5th Ave, ice-skating in Central Park, or eating fancy desserts at a corner side cafe, but instead they chose to bless this man. These were eighteen-year old girls on a spring break trip with a mission.
https://liquidchurch.com/messages/fast-2-series/gods-chosen-fast/
Go to minute mark 40 to hear about Galloway's interaction with Messiah College students.
"Service trips are not a waste of your time," Keller shares. She recommends diligently praying about it and talking to people that have gone on trips or work at the Agape Center. "God will send you where He wants you to go, you only have to follow."

Want to get involved?
Contact the Agape Center. Get plugged in. Even if a service trip like the Bronx isn't an option, the Agape Center partners with 14 organizations and missions in the greater Harrisburg area alone! If you are considering attending a trip, you can email servicetrips@messiah.edu or visit the Agape Center.